Discover more from IMPORTANTVILLE
Get smarter about the intersection of Indiana politics and power.
Over 3,000 subscribers
Buttigieg vs. Pence—Young on the record tonight—Hogsett's new ad
Plus: Join me tonight for IMPORTANTVILLE LIVE.
Days until Indiana's municipal elections: 28
Days until the Iowa caucuses: 118
Days until the 2020 election: 392
FIRST IN IMPORTANTVILLE: At an Indianapolis fundraiser Friday hosted by TWG Development LLC's Joe Whitsett, Pete Buttigieg raised more than $100,000 before his Greater Indianapolis NAACP speech. It was his first fundraiser here this year.
As impeachment talk roils the nation and President Trump gets bipartisan blowback for his decision to withdraw U.S. troops from Northern Syria, I'll sit down with Sen. Todd Young at a particularly newsy moment for a wide-ranging interview tonight at 7 p.m. at Emmis Communications. We'll trace his path in politics, and get his take on 2020 elections and probably talk about his love of soccer and how his mile time landed him a job with the late-Sen. Richard Lugar. We'll also ask him what it was like to sit down with Crown Prince of Saudi Arabia Mohammad bin Salman on a recent trip to the Middle East.
Young has at times broke with the president on foreign policy, including the Saudi-led U.S. war in Yemen.
"It offends my sensibilities—and I know it offends the sensibilities of all Americans – that there are countries in this day and age that are using food as a weapon of war," Young told USA TODAY last October. "And it further offends my sensibilities … that the United States has partnered with these countries."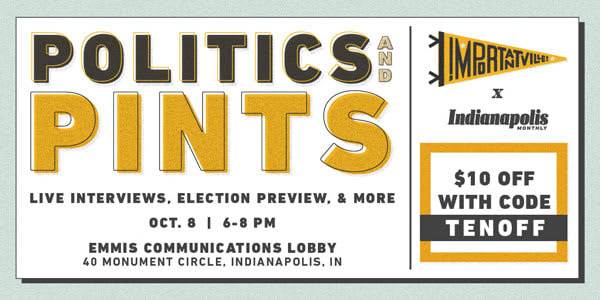 In addition, we'll have Christina Hale, the former Democratic lieutenant governor nominee who is campaigning for her party's nomination in the 5th Congressional District. Her interview starts at 6:30 p.m.
The event starts at 6 p.m.
Get your tickets here. Use the code TENOFF for a $10 discount.
Good Tuesday morning, and welcome to IMPORTANTVILLE. Thanks to everyone who came out to BBQ & POLITICS Sunday night featuring Ron Klain. Among other insider-y anecdotes, Klain shared the phone call he had with President Obama in the motorcade after his disastrous first debate in Denver in 2012. Klain was tasked with telling the president how poorly he did, and you could've heard a pin drop in the room as he recounted it.
WHERE'S PENCE? He has lunch with the president at 1 p.m. Later, at 4:30 p.m., he joins the president in the Oval to present the Presidential Medal of Freedom to Edwin Meese.
WHERE'S PETE? He's been on mayor duty back in South Bend.
THE PETE BEAT
Buttigieg announced a plan Monday to curb the cost of prescription drugs that he says would reduce the out-of-pocket spending for seniors by 50 percent in four years.

Buttigieg launched a paid statewide, 30-second digital ad to run in Iowa called "Light the Way."
AROUND IMPORTANTVILLE
Steve Braun, the brother of U.S. Sen. Mike Braun, suspended his bid for the 5th Congressional District yesterday due to health reasons.

Democratic State Sen. Eddie Melton will announce his gubernatorial bid tonight in Gary, and will travel to Indianapolis tomorrow for interviews. He'll be joined Tuesday night by Republican State Superintendent Jennifer McCormick.

NPR's public editor wrote a column disputing facts shared by Rep. Jim Banks in a live interview last week about the congressional impeachment inquiry.

Democrat Rep. André Carson declined to implicate Vice President Mike Pence in the Ukraine scandal, calling him a "patriotic guy" in an interview with Dan Spehler and our friends at Fox 59'S IN Focus.
MAJOR MOVES
Happy birthday to Deputy Chief of Staff for Indianapolis Mayor Joe Hogsett Taylor Schaffer.
IMPORTANTVILLE READS
When was the last time you walked into your doctor's office and asked to see a police officer? It sounds ridiculous, of course, until you really think about how Charleston attempted to solve its intravenous drug use problem.

This week, the Charleston Gazette-Mail's Amelia Ferrell Knisely reported that, according to the West Virginia Department of Health and Human Resources, "a new case of hepatitis C was reported nearly every eight hours in Kanawha County [in 2018]." This rate of infection is a five-year high for the county. The rate accelerated after the Kanawha-Charleston Health Department shut down its public syringe exchange in March 2018 in response to new rules set by the then-mayor and Charleston Police Department.

And I'm sure former mayor Danny Jones and others at the center of the shutdown felt a great deal of pressure to police addict behavior — to uphold "good values" and "clean up the city." But there's a certain Indiana native who made a political career out of talking values, and he learned the hard way that people suffer when you send a cop to do a doctor's job.
This week, Molly Martin, the Indiana director of the New America think tank in Indianapolis, penned a column for her native Charleston, West Virginia, newspaper, on increasing rates of HIV and Hepatitis-C that followed the closure of a local syringe exchange program.

She points to the alleged failures of Indiana in addressing similar issues, specifically and gratuitously taking aim at former Governor Mike Pence.

As the legislative director for the Indiana State Department of Health during the HIV outbreak in Austin, Indiana, I spent most of my time working on policy in Indianapolis, but I saw Austin firsthand and the heroic response of the community, with the support of the state. I'm writing on my own behalf and not as a spokesperson for the response or my former employer.
That's all for today. Thanks for reading and subscribing. Have a good week.