Discover more from IMPORTANTVILLE
Get smarter about the intersection of Indiana politics and power.
Over 3,000 subscribers
Coronavirus updates—Eli Lilly searching for therapies—Ford criticizes IN Democrats
Plus: Surgeon General Jerome Adams on the outs?
By Adam Wren and design by Kris Davidson
Indiana will be offering in-person voting in just 35 days on May 26, ahead of our June 2 primary, a fact that's difficult to wrap one's mind around, especially as no relief from our stay-at-home order has been announced and schools and universities will not return for the remainder of the current school year.
Yes, absentee voting is available, and voters must complete this form to request an absentee-by-mail ballot by May 21.
But many Democrats are privately—and now not so privately—assailing that decision, and the deal brokered by Indiana Democratic Party Chairman John Zody with the Indiana Republican Party. "Shouldn't we be tired of our Democratic Party Chairman engaging and making these decisions that completely ignore the ideals we believe in as Democrats?" writes State Sen. J.D. Ford in an op-ed below (scroll down for more). "Why is someone who is on a leave of absence from his position making sweeping decisions for our party and for Hoosiers? After watching the horrors of Wisconsin's in-person election, how can we go down the path of making that same mistake?"
THE LATEST ON CORONAVIRUS IN INDIANA: At Gov. Eric Holcomb's daily briefing today, we learned:
A few weeks ago, Indiana was testing 336 Hoosiers per 100,000 people, the lowest among neighboring Midwestern states. As of today, according to Indiana's Health Commissioner Dr. Kristina Box, that figure has risen to 999 tested per 100,000 people, outpacing Ohio and Kentucky.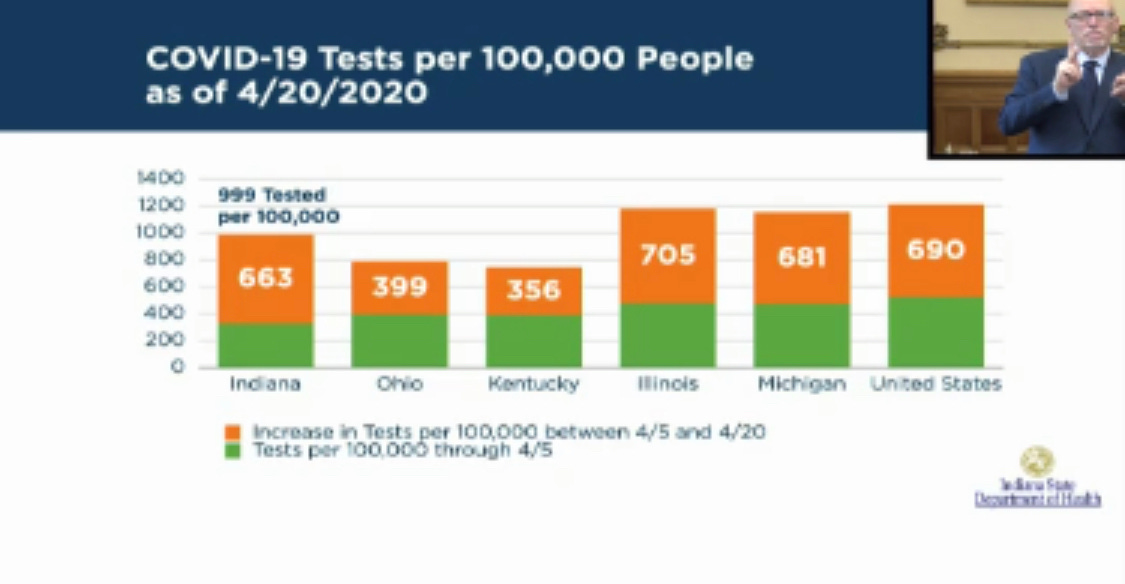 Good Tuesday afternoon.
TOTAL HOOSIERS TESTED FOR CORONAVIRUS**:  67,264
TOTAL POSITIVE CASES *: 12,097
TOTAL DEATHS: 630
*Results from ISDH and results submitted by private laboratories.
**Number of tests is provisional and reflects only those reported to ISDH—not a comprehensive total.
THE IMPORTANTVILLE SOAPBOX:
In an op-ed, Democratic State Sen. J.D. Ford criticizes his own party for their stance on in-person primary voting beginning on May 26. Ford represents Boone County's Eagle Township, Hamilton County's Clay Township, and Marion County.
I cannot be silent any longer. I see other Democrats around our country taking the issue of voting seriously and making ballot access a priority. They are putting this issue front and center. I don't believe this is the case here in Indiana. I have been patiently waiting to no avail so I am stepping forward. To put it bluntly, we have shoddy backroom deals being made at your expense. Please allow me to explain. 

I have been a Democrat all my life. I remember the stories of my grandparents, who were elected officials, instilling in me that our party isn't afraid to speak out on difficult topics. With that being said, what happens when you have to speak out against your own party? Being involved in the party apparatus brings camaraderie, and it also brings challenges. One of those challenges is the unwritten rule that you play the game and go along with party politics. I cannot.  

On Thursday, 4/16: Secretary of State Connie Lawson claimed that Indiana is "not a vote-by-mail state," but rather, an in-person voting state.  She mentioned her office is applying for an $8 million federal grant to help secure personal protective equipment (PPE). That's great! We should protect the workers that have to work the polls. However, I'd propose we take the federal money and begin to scale up our vote-by-mail infrastructure instead. Clearly, with Secretary Lawson's comments and her actions, it is clear to me that she prefers taking a page out of the failed Wisconsin election playbook.

On Friday, 4/17: the Indiana Elections Commission (IEC) met to unanimously adopt Executive Order 20-20-40. Once the order was adopted, IEC Vice Chairman Long and IEC Commissioner Overholt presented these useful amendments:

Provide enough vote centers 

Move the absentee ballot application deadline from 12 days to eight days, as both party chairs were in favor of this. 

Extend the deadline to receive absentee ballots in the clerk's office to 12 p.m. noon three days after (6/5). 

Allow receipt of absentee ballots in person at a designated location on Election Day, June 2nd. 

Allow voters to vote via paper ballot at a designated curbside location during the early voting window. 

Require the Secretary of State/IEC to either a.) mail an application to every registered voter in the state or b) send a postcard to every household with a registered voter outlining how-to-use the Sec of State's website to request an absentee ballot application and encourage voting by mail consistent with current CDC guidance.

When IEC Vice Chairman Anthony Long concluded his presentation of the amendments, IEC Chairman Paul Okeson accused Long of being disingenuous because the amendments were proposed after the order passed – the order that was agreed to by Democratic Chairman John Zody, Republican Chairman Kyle Hupfer, the Secretary of State's office and the Election Division. In fact, Chairman Okeson went a step further to say that because Chairman Zody already agreed to the order, his acquiescence was rationale to defeat the amendments that our Democratic friends on the Commission presented. All of the amendments were defeated along a party-line vote. And, because these amendments were already proposed, discussed and defeated; Chairman Okeson stated there was no need for the scheduled April 22nd meeting – thus eliminating the opportunity for public testimony. I'd like to take this opportunity to publicly say thank you to IEC Vice Chairman Long and Commissioner Overholt for proposing the amendments and for speaking up to reiterate that the 4/22 meeting needs to occur per the order that was adopted. 

I am disappointed in what transpired at the IEC's 4/17 meeting. I went into that meeting hopeful that during this pandemic, we were going to make it easier on Hoosiers to exercise their right to vote and keep them safe. Frankly, I am even more disappointed in Chairman Zody. He agreed to the order and our Republican friends got exactly what they wanted. I saw the statement he put out after the IEC's meeting claiming victory for what happened. I disagree. Not enough is being done. 

Shouldn't we be tired of our Democratic Party Chairman engaging and making these decisions that completely ignore the ideals we believe in as Democrats? Why is someone who is on a leave of absence from his position making sweeping decisions for our party and for Hoosiers? After watching the horrors of Wisconsin's in-person election, how can we go down the path of making that same mistake?

During these unprecedented times, this pandemic has highlighted so many deficiencies in our voting systems. In addition to the amendments that were proposed on 4/17 at the IEC meeting, here's where I think we should continue to push the conversation:

Expand vote-by-mail infrastructure to keep voters healthy

Give county clerks the resources they need to facilitate vote-by-mail.

Continue to educate voters that the expansion of no-fault absentee ballot voting is not the same as mail-in voting or vote-from-home voting.

Allow same-day voter registration 

Halt voter purges for the rest of the pandemic

Push back on election leaders who say that vote-by-mail leads to fraud

Allow ballot tracking tools similar to what airlines use to track your luggage while you fly

If we have to vote in-person:

Extend polling locations hours to 8 p.m.

No polling locations in places like assisted living centers, nursing homes, etc.

Give hazard pay to all poll workers

Allow 16 and 17 year-old students the opportunity to pre-register to vote. 

In my humble opinion, this is what we as the Democratic Party should be fighting for. If there is anything we should be doing at this present moment as citizens of our State it is to ensure that elections are safe, accessible and fair. Right now, I don't see that. I see lackluster leadership bending to our friends on the other side and not taking a stand on these bold measures. I am asking and begging that we start making some noise on this issue or sadly it will be a missed opportunity for our Party and our democracy. Let's make this the issue that gets Democrats in Indiana fired up again.
IMPORTANTVILLE READS
On a blue-skied and brisk spring day in April, not quite four weeks into Indiana's coronavirus-induced stay-at-home order, the natives were growing restless.

Here, off a tony stretch of Meridian Street, a cacophony of car horns yelped and more than 200 protestors brayed as they gathered outside of Indiana Governor Eric Holcomb's official residence, flouting CDC guidelines prohibiting gatherings of more than 10 people.

They came here because they believed the governor had trampled their constitutional rights by preventing churches to open doors on Easter Sunday. They were here because they wanted their small businesses opened back up. And they were here to let off some steam.

"Open it up!" yelled a man from the cloistered confines of his shiny late model BMW X5 periodically, as he circled the block.
Amid a pandemic, it's comforting to have one of the world's most storied pharmaceutical firms headquartered in your backyard. Indeed, since March 18, when Eli Lilly and Company announced a partnership with the Indiana State Health Department to accelerate testing for the novel coronavirus, the company has tested more than 20,000 Hoosiers for COVID-19—a third of 61,142 tests performed across the state. And this week, they'll increase testing of essential workers from 1,500 to 2,000 a day.

The man behind that effort is Dan Skovronsky, Lilly's mild-mannered chief scientific officer. If you could pick an expert to have on your team—in your town—Skovronsky would be near the top. It's probably the reason his phone has been blowing up lately. "Because of what I do, my job, people who are worried about COVID-19 and get tested, they're often likely to call me and talk to me," he says.
The Trump administration took Surgeon General Jerome Adams off television last week after his controversial remarks on Covid-19's threat to minorities, silencing the White House's loudest voice on racial disparities even as concerns mount about risks to communities of color.

Adams made just one TV appearance last week, a steep decline from the 10-plus TV appearances he made the prior week on programs like ABC's "Good Morning America," CBS' "This Morning" and NBC's "Today Show." The surgeon general received multiple requests for high-profile media appearances last week that the White House didn't accept, said two people with knowledge of some of those requests. Adams also hasn't made an appearance at a White House press briefing since April 10.

Adams' disappearance on the airwaves and at the White House podium followed comments at a press briefing on April 10 that progressives attacked as racially insensitive for shifting responsibility to minorities. But health officials also fear that minimizing Adams means the White House is retreating from questions about its work on behalf of minority communities, a perennially sensitive issue for President Donald Trump and his administration. Early data from Chicago showed that black communities represented about two-thirds of the city's Covid-19 deaths, despite representing about one-third of the population.
That's all for today. Stay healthy. Did a friend or colleague forward this to you? Click below to subscribe.