Discover more from IMPORTANTVILLE
Get smarter about the intersection of Indiana politics and power.
Over 3,000 subscribers
Could impeachment ripple Indiana?—Buttigieg draws 2,500—Hogsett's new ad
"Indiana is much less competitive Republican vs. Democrat as a state than we were in 1974."
By Adam Wren and design by Kris Davidson
Days until the Iowa caucuses: 126
Days until the 2020 election: 399
KLAIN ON TAP: Ahead of the next Democratic debate in Columbus, Ohio, I'll interview Hoosier expat Ron Klain, the former chief of staff to two vice presidents and a longtime debate prep guru for every Democratic nominee since 2004. He'll take us inside what presidential debate prep is like, talk about 2020, and share his unique path from growing up in Indianapolis to becoming a Washington wise man and Ebola Czar.
TICKETS here—cost of the ticket includes a drink.
With impeachment talk roiling D.C., I asked Trevor Foughty, the former Hooser Republican operative, and curator of the popular website Capitol & Washington—the Baseball-Reference for Indiana Politics—whether its politics could spill over into Indiana's election next year.
In 1974, in the wake of Watergate, incumbent Indiana Democrats took the Secretary of State's, treasurer's and auditor's offices, by margins of 54-46%. In 1970, they won those same offices with margins of 51-49%, Foughty tells me.
"The U.S. Senate race that year saw Birch Bayh get his normal 50-51%," Foughty says. "[Richard] Lugar [who ran and lost his first Senate race to Bayh] got less than other GOP opponents to Bayh….But Lugar was very closely associated with Nixon, and Bayh still didn't see a surge."
Foughty tells me that impeachment in Indiana was polarizing back then, and it would be here today. "That may be the real parallel to 1974. And if so, Indiana is much less competitive Republican vs. Democrat as a state than we were then."
IMPORTANTVILLE TAKE: The politics of impeachment are moving fast and hard to predict. But even if President Donald Trump is impeached, it's unlikely that will spill over into Indiana's elections in 2020 in a way that moves races—though Democrats will attempt to inject it into races such as the 5th Congressional District. Having Vice President Mike Pence presumably on the ticket could further insulate damage in the Hoosier state.
ALSO: Don't miss this trending thread on a Hoosier's intersection with impeachment back in 1974.
Good Monday morning, and welcome to IMPORTANTVILLE.
WHERE'S PENCE? He has lunch with the president at 12:45 p.m. at the White House, swears in Secretary of Labor Eugene Scalia at 2 p.m. with the president in the Oval Office, and meets with the Jamaican prime minister at 3:30 p.m.
WHERE'S PETE? On Wednesday, he'll participate in a 2020 Gun Safety Forum hosted by March For Our Lives in Las Vegas.
On Thursday, he'll open up a new campaign office in South Bend Thursday, a sign he still plans to be in the race by Indiana's May 2020 primary.
He'll be in Indianapolis for the Greater Indianapolis branch of the NAACP's 50th Freedom Fund Banquet next Friday at 5:30 p.m. at the Indianapolis Marriott Downtown.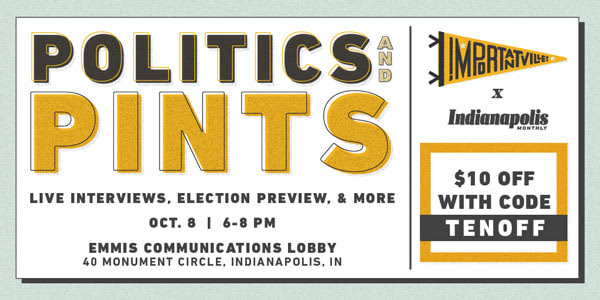 Join me next Tuesday, Oct. 8 for the IMPORTANTVILLE Politics & Pints event featuring live interviews with U.S. Sen. Todd Young and Democratic congressional candidate Christina Hale talking about the 2020 election cycle, news of the day, and Indiana's increasing influence in national politics. We'll be in the Emmis lobby on Monument Circle at 6 p.m.
Get your tickets here. Use the code TENOFF for a $10 discount.
THE PETE BEAT
The South Bend mayor drew his largest grassroots fundraising crowd of the cycle so far Sunday, with an audience of more than 2,500.
In an end-of-quarter fundraising blast this morning, the candidate said he's 91% of the way toward raising $1.5 million over the last few days. We should know more about his total haul tomorrow.
HOGSETT LAUNCHES NEW AD
Indianapolis Mayor Joe Hogsett launched another unconventional ad this morning on cable and network airwaves that tells the story of Donita Royal, the mother of a gun violence victim. "Mothers Against Violence" is the Democrat's first 60-second ad.
"What I love about Mayor Hogsett – he's a man of faith. And my spirit connects with that," Royal says.
EXTRA, EXTRA: Hogsett's opponent, Republican State Sen. Jim Merritt, went up with his first ad last week. The negative spot, "Business is Booming," makes the case that business is in fact booming in Indianapolis…for criminals, auto-body shops repairing pothole damage and political insiders.
PLUS: The Indianapolis Chamber announced its endorsement of Hogsett this morning. "Over the last four years, I have been proud to partner with the Indy Chamber," Hogsett said. "Together, we have charted a new roadmap for our city's economic development, unveiled an innovative inclusive growth strategy, and continued to invest in opportunities for our city's workforce. The Indy Chamber is an invaluable asset to our city and a strong partner to my office. I am honored to receive their support today and I look forward to continuing to work together to move Indianapolis forward."  
"Our city's economy is stronger when more of our citizens are able to contribute to it," said Indy Chamber President and CEO Michael Huber. "Mayor Hogsett is committed to this ideal of inclusive growth, restructuring local economic incentives to upgrade our job market and launching initiatives like 'Indy Achieves' to upskill our workforce while supporting improved transit to connect people and employers.
Hogsett has also recently received the endorsement of MIBOR and the FOP, in addition to a number of local unions.
AROUND IMPORTANTVILLE
Marion County Prosecutor Ryan Mears says they will not prosecute marijuana possession.

Tim Moriarity, the Hogsett-backed candidate to replace Terry Curry, issued a statement on the decision soon after. "Truly reforming our county's criminal justice system will require a holistic approach, and there's no doubt that the enforcement of marijuana possession charges have created inequity -- especially for communities of color. While I appreciate the Marion County Prosecutor's Office's abrupt change of course on this policy today, I believe it is critical we treat this step forward as the continuation of a journey, not the end. If elected Marion County Prosecutor on Saturday, I would keep this change in policy in place and work alongside the community to analyze its effects. But I do believe this new approach will only be successful if it is implemented alongside significant investments in treatment for substance abuse and mental health challenges."
IMPORTANTVILLE READS
As Donald Trump stares down impeachment, allies of Vice President Mike Pence claim he is as calm and poised as can be.

The vice president's allies say he has proved his fealty over and over again, reciting the countless moments when Pence has locked arms with his unruly boss instead of joining other Republicans who turned away. Often in the darkest moments of Trump's presidency — amid controversies stemming from his brazen actions or divisive rhetoric — Pence has declined to show daylight between them. Sometimes, Trump's smooth-talking sidekick has even doubled down with him.

Trump thrust his relationship with the vice president back into the spotlight last week, when the embattled president nudged reporters during a United Nations news conference to "ask for VP Pence's conversation, because he had a couple conversations also" with Ukrainian officials.

The out-of-the-blue reference triggered questions about the vice president's role in the latest mess and the unusual relationship between the pair of leaders. If Trump falls alone, Pence becomes the 46th president of the United States — a development many mainstream Republicans would prefer. If Trump and Pence go down together or in quick succession, it's President Nancy Pelosi — a prospect that would not be lost on Senate Republicans voting on whether to oust their party's leaders.
That's all for today. Thanks for reading. Did a friend or colleague forward this? Click below to subscribe.