Discover more from IMPORTANTVILLE
Get smarter about the intersection of Indiana politics and power.
Over 3,000 subscribers
Hale's first #IN05 general election ad—Weinzapfel exclusive—Buttigieg's prime speaking slot
In a new six-figure ad buy, Hale highlights her bio.
By Adam Wren and design by Kris Davidson
FIRST IN IMPORTANTVILLE: Indiana 5th District Democratic candidate Christina Hale is debuting her first general election ad today.
In a six-figure buy, Hale's campaign will air a 60-second bio spot focusing on her work on behalf of children in the Indiana General Assembly and for Kiwanis International.
"My life's work has been focused on supporting children around the world and here in our community, and I'm running for Congress to continue working for Hoosier families," Hale said in a statement. "Access to affordable health care has never been more important, and I'll fight to ensure all Hoosier kids, and their families, have quality care that doesn't break the bank."
The 5th is one of the nation's most closely watched House races this cycle. Trump won the district by 12 points in 2016. In 2018, former Democratic Sen. Joe Donelly won the Republican-leaning district by 1,829 votes, despite losing the state to Republican Sen. Mike Braun. In June, the Hale campaign released a poll showing her leading Republican State Sen. Victoria Spartz 51%-45%. The Spartz campaign questioned the poll's validity.

On the Republican side, the Club for Growth, the prominent Washington, D.C.-based conservative group, has booked $800,000 in broadcast television for six weeks beginning on September 22 on Spartz's behalf. The Club spent heavily on the primary, dumping half a million into Spartz's campaign.
If you're in the Indianapolis media market, today begins an 83-day sprint to Election Day during which you will not be able to turn on your television—or any media device, for that matter—without seeing a political ad. Buckle up.
Good Wednesday morning, and welcome to IMPORTANTVILLE.
THE PETE BEAT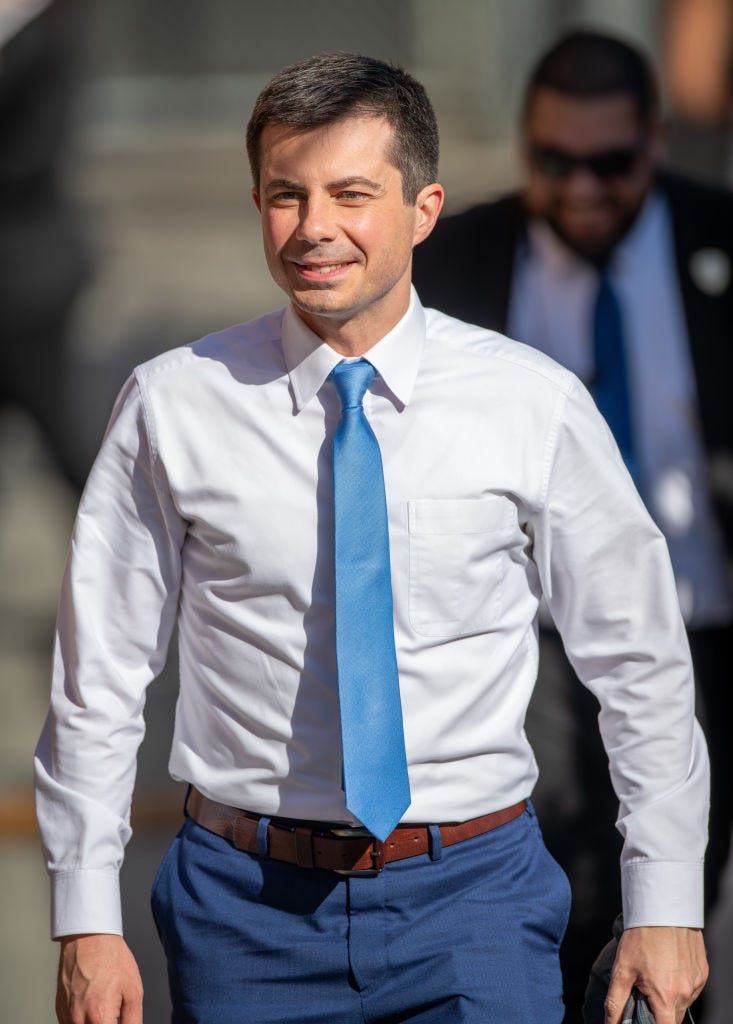 LOS ANGELES, CA - MARCH 11: Pete Buttigieg is seen at 'Jimmy Kimmel Live' on March 11, 2020, in Los Angeles, California. (Photo by RB/Bauer-Griffin/GC Images)
Former Mayor of South Bend Pete Buttigieg has officially landed a speaking slot at next week's Democratic National Convention. On Thursday night, he'll speak alongside Sen. Cory Booker, Gov. Gavin Newsom, Mayor Keisha Lance Bottoms, Sen. Tammy Baldwin, Sen. Tammy Duckworth, Sen. Chris Coons, Sen. Kamala Harris, The Biden Family, and Vice President Joe Biden. (Theme: "America's Promise).

Buttigieg has helped Biden raise $6.7 million so far, according to Politico.

Buttigieg won't be the only Hoosier speaking at the convention. DeAndra Dycus of Indianapolis will also be slotted in the schedule. Per the DNC: "In 2014, DeAndra's 13-year-old son, Dre, an honor student and star athlete was shot and sustained major injuries at a birthday party he was attending. DeAndra started a non-profit dedicated to helping families and survivors of gun violence, and she volunteers with the Everytown Survivor Network and Moms Demand Action for Gun Sense in America."
AROUND IMPORTANTVILLE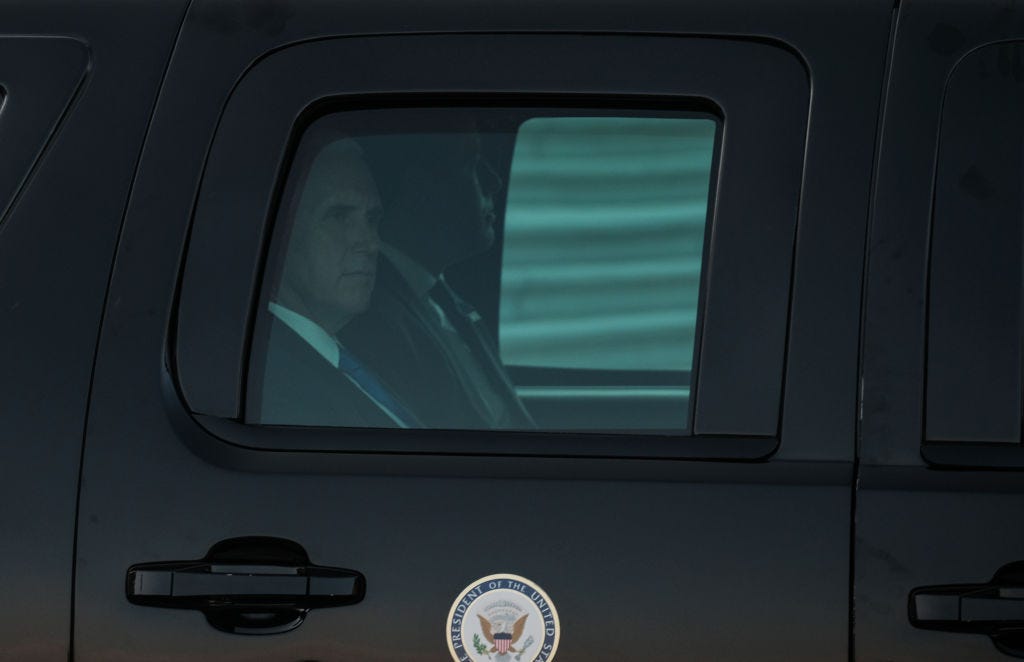 WASHINGTON, DC - JULY 27: U.S. Vice President Mike Pence departs the U.S. Capitol after paying his respects to Rep. John Lewis (D-GA) on July 27, 2020 in Washington, DC. Lewis, a civil rights icon and fierce advocate of voting rights for African Americans, will lie in state at the Capitol. Lewis died on July 17 at the age of 80. (Photo by Michael A. McCoy/Getty Images)
Vice President Mike Pence is tentatively scheduled to debate Sen. Kamala Harris on Oct. 7 at the University of Utah.

In a speech at the LDS for Trump launch event in Mesa, Arizona, here's what Pence had to say about Biden's selection of Harris, via pooler Elizabeth Crisp of Newsweek: "I don't know if you all heard the news, but on the way here I heard Joe Biden just named his running mate -- California Senator Kamala Harris. So let me take this opportunity to welcome her to the race. As you all know, Joe Biden and the Democratic Party have been overtaken by the radical left. So given their promises of higher taxes, open borders, socialized medicine, and abortion on demand, it's no surprise that he chose Senator Harris. You all might like to know that the Vice Presidential debate is on October 7 in Utah! So my message to the Democratic nominee for Vice President: congratulations. I'll see you in Salt Lake City!"

Meanwhile, Indiana Democratic Party Chairman John Zody said of the Harris pick: "Kamala Harris has spent a career shattering glass ceilings and fighting for working people. She's not afraid to take on the powerful interests that control Washington. Joe Biden and Kamala Harris are the visionary leaders our country needs to control this virus and build back an economy that works for working families."
THE IMPORTANTVILLE INTERVIEW
Jonathan Weinzapfel might be Indiana Democrats' best ticket out of the political wilderness.
The party holds no statewide office in the Hoosier state. And with Democratic gubernatorial nominee Dr. Woody Myers trailing Republican Gov. Eric Holcomb by 20 points in at least one poll, and trailing him in fundraising $8 million to $70,000, Myers faces an uphill slog.
In the middle of statewide travel from Evansville to South Bend and back, Weinzapfel phoned me from outside the Statehouse last week.
Here, our wide-ranging interview: 
What it's like to campaign amid COVID-19?
The first Democrat party in-person event I've been to post-COVID was just two Sundays ago. There was a fish fry in Spencer County. The prior event was all the way back on March 11th. You have a convention in between where there aren't any party events, there are no gatherings of people and it's all via phone and Zoom meetings. But you have to get out and meet people, right?
What did you think when you realized that Todd Rokita was going to be the Republican nominee and not Curtis Hill?
Well, he was our second choice, to put it frankly. He is someone who has been pretty far out there on the right-wing. He has angered quite a few Republicans and I think has pretty soft support within the party. And that's I think a perfect environment for us to be successful in the fall.
I think it's important from both a policy perspective and symbolically to communicate with folks that we're going to fight to protect their healthcare. While Todd Rokita, obviously he's with his 60 plus vote to kill the affordable care act in Congress and his commitment to support this lawsuit. There's a clear difference between the two of us. Especially in the middle of a global pandemic. There are what, 2.7 million Hoosiers with some type of preexisting condition, and with every positive coronavirus test, there are more.
I just think it's an untenable position and politically tone-deaf. And from a policy perspective, unconscionable. I think it's the clearest difference between the two candidates and it's something we talk about every single day. So it's not just the 2.7 million Hoosiers with preexisting conditions. It's 550,000 that have received healthcare through the expansion of the Healthy Indiana Plan, which was put together by Mitch Daniels and expanded under Mike Pence, and now Todd Rokita wants to kill it.
When you received your party nomination, in several press releases and statements, Todd Rokita misspelled your last name a variety of different ways. What did you make of that?
Unprofessional.
What would your relationship be like with Gov. Eric Holcomb should he be re-elected and should you be elected in position?
Well, I'll give you an example. Two weeks ago, governor Eric Holcomb issues an order for wearing masks in public.
Curtis Hill issues an advisory order saying the governor doesn't have the legal authority to do it. We immediately issued a statement saying one, I support the governor's policy, but two, he clearly has the legal authority to order masks to be worn in public places. Todd Rokita gave some mealy-mouth answer and really didn't answer the question because he's afraid he might offend somebody. So I think that right there really epitomized the relationship that I would expect to have with governor Holcomb if he is re-elected. I will focus on what's best for Hoosiers and Hoosiers deserve to have a government that functions. They want to see their elected officials regardless of party work together to improve their lives and that's what I'm committed to doing.
Beyond removing Indiana from the lawsuit against Obamacare, what are some key initiatives you hope to pursue if elected?
This really does revolve around coronavirus. I mean, that's what's at the forefront of people's minds. It's had a devastating impact on our society and our economy. So we want to focus on things that can help improve Hoosiers' lives. We want to focus on protecting folk's wages. I want to make sure that, and we've been a strong advocate of this, that we ought to have absentee voting for anyone who wants to participate. So there should be no-fault absentee balloting.
There are just a lot of issues that I'll also inherit. Everything from the state's lawsuit among other states and communities throughout Indiana and the country who have filed litigation against opioid manufacturers and distributors. I would expect that they will not bring that to any conclusions. So that will be an opportunity to really help shape a settlement agreement I would expect. Or take it to the full litigation. But I would expect it to be some type of settlement litigation or settlement agreement, like the tobacco settlement. And making sure the proceeds from that are going to help the people in the communities that have been harmed the most, and doing that through support for drug addiction services and treatment and mental health counseling and treatment. Two areas where we are grossly deficient here in Indiana.
I tell you, the thing that amazes me is with the fraud committed by the operators of virtual charter schools, why they aren't being held accountable? And that's something I would also want to make. And it's not because they're charter schools. Any vendor, anyone receiving tax dollars from the state, I think it's the role of the Attorney General to hold them accountable if they don't live up to their commitments. And this is just a very obvious example that people are aware of it, but it's true in every instance. You got to make sure we're protecting taxpayers.
There's been speculation every four years that you might be interested in a gubernatorial bid, why have you passed in the past and why AG now?
I was kind of happy at Ivy Tech Community College working as chancellor in the Evansville campus.
It was a great opportunity to make a difference, both in developing new training programs and seeing young people succeed or people get additional skills necessary to be successful in the workplace. I mean, great stuff. I watched Curtis Hill and his sexual assault of four women in that bar and I'm thinking to myself, this is the best we can do here in Indiana?
And then you start paying attention to his policy positions. First and foremost, on the affordable care act. It's going to be up to voters to get rid of this guy. And then you start really seeing the great things that you can do as Attorney General to make people's lives better, and it seemed like a perfect fit from a policy perspective about the things that I could do to help Hoosier families and make the state a little bit better place and the political opportunities that existed. And frankly, and I think those two things still hold true, even if Curtis Hill is not the nominee.
Democrats have struggled in Indiana statewide for years. Why do you think you can reverse that trend?
One, first and foremost, it's the contrast in candidates.
There's a clear difference between the two of us. I think Curtis Hill has raised the profile of the Attorney General's office. Good or bad.
And so I think it's an office that people are paying attention to. I've run statewide campaigns. Let me take that back. I've run campaigns, national campaigns prior. So we know what we're doing. We're raising the money necessary to be successful. And I think it's a political environment, especially with coronavirus where people are looking for leadership, and I'm not sure they care whether they're Democrat or Republican. They want folks who are going to work together, they're going to help us address our economic challenges, the challenges with our schools. People are worried about their healthcare. They're worried about keeping jobs. Folks who have put their life savings into the family business. And they're wondering, have they just lost all that entire investment.
You have folks that are worried they're going to be putting their parents in a nursing home and what kind of conditions exist there?
Those are the things that are at forefront of people's minds and I'm not sure if they care if it's a Republican or Democrat response, they want to see leadership. Someone who can bring people together and build consensus and get stuff done. And frankly, that's my track record as both a Mayor of Evansville and as Chancellor at Ivy Tech Evansville.
---
IMPORTANTVILLE READS
In private, the efforts to charm Mr. Trump were more pointed, according to a person familiar with the episode: Ms. Noem greeted him with a four-foot replica of Mount Rushmore that included a fifth presidential likeness: his.

But less than three weeks later, Ms. Noem came to the White House with far less fanfare — to meet not with Mr. Trump, but with Vice President Mike Pence. Word had circulated through the Trump administration that she was ingratiating herself with the president, fueling suspicions that there might have been a discussion about her serving as his running mate in November. Ms. Noem assured Mr. Pence that she wanted to help the ticket however she could, according to an official present.
That's all for today. Thanks for reading and subscribing.