Discover more from IMPORTANTVILLE
Get smarter about the intersection of Indiana politics and power.
Over 3,000 subscribers
UPDATED: Indy mayoral race scoop—Pence book scoop—Buttigieg storms N.H.
"Mike didn't bother them. But Karen did."
By Adam Wren and design by Kris Davidson
THE PENCE BIO: SECOND LADY KAREN PENCE directed Mike Pence to ask President Trump for money when leaving the governor's office—and Trump transferred $750,000 from the inaugural committee, according to Tom LoBianco's new book: "Mike didn't bother them," LoBianco writes. "But Karen did. The Trump camp had heard horror stories about Karen, the same ones that percolated through the halls of the statehouse. But just as in those halls, Trump's campaign couldn't."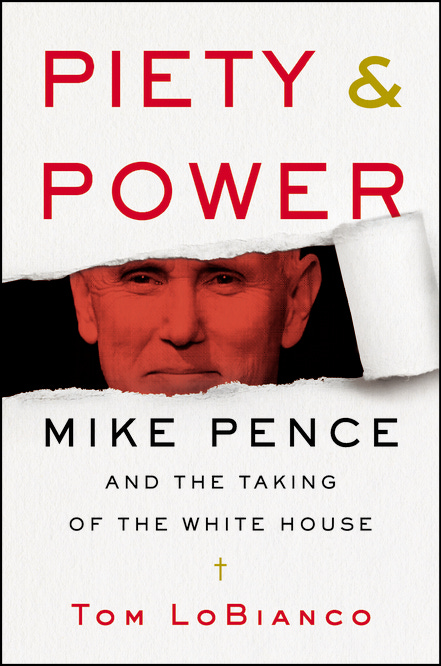 FIRST IN IMPORTANTVILLE: A new Hogsett for Indy internal campaign poll shows Indi anapolis Mayor Joe Hogsett with a 66% favorability rating among likely voters, and 73% rate his job performance positively, according to a source who attended a campaign briefing. Hogsett's popularity among Republican voters: 43 percent give him a favorable rating, while 43 percent disapprove. Hogsett is also viewed favorably across all regions of the city: In Decatur, Perry, and Franklin townships, the most Republican-leaning areas, 59% of voters view him favorably.
The poll—the results of which were shared at an all-candidate meeting at the Marion County Democratic Party Saturday morning—was conducted by Global Strategy Group from Aug. 15-18 as a telephone survey of 500 likely voters. The margin of error is 4.4%.
Good Monday morning, and welcome to IMPORTANTVILLE.
WHERE'S VEEP? He will deliver remarks at the "Get Out the Vote" event with Dan Bishop in Wingate, NC. Later, the Vice President will join the President for a Keep America Great rally in Fayetteville.
---
GET YOUR TICKET: IMPORTANTVILLE POLITICS & PINTS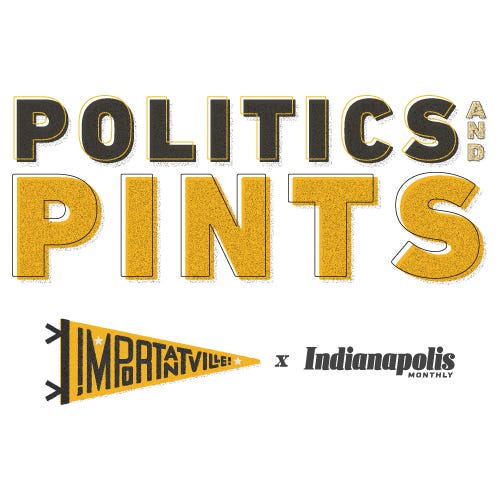 The first IMPORTANTVILLE event, hosted in partnership with Indianapolis Monthly, will feature live interviews with U.S. Sen. Todd Young and Democratic congressional candidate Christina Hale talking about the 2020 election cycle, news of the day, and Indiana's increasing influence in national politics. It'll be in the Emmis lobby on Monument Circle on Oct. 8.
We will have beer, wine, and light hors d'oeuvres, which will be available from 6 p.m. to 6:30 pm, when the event begins.
Get your tickets.
THE BUTTIGIEG BEAT
MANCHESTER, N.H. – Mayor Pete Buttigieg drew hearty applause Saturday from thousands of people who gathered here for the New Hampshire Democratic Party's convention. But he was far from the only presidential hopeful to do so.
Buttigieg was among 19 presidential candidates to take the podium for a brief speech to Granite State Democrats, whose first-in-the-nation primary is just five months away. How well his words resonated with that audience—which included proud supporters for each of his opponents—could determine his odds of success as primary voters winnow the packed field.
Tailoring his message to the crowd, Buttigieg complimented New Hampshire lawmakers for responding to the needs of everyday people, and he criticized two-term Republican Gov. Chris Sununu for vetoing the legislature's accomplishments. While the state currently defers to the federal minimum wage of $7.25 per hour, lawmakers had agreed to impose a state minimum wage of $10 per hour in 2020, then $12 per hour in 2022. Sununu, however, vetoed the measure last month, saying it would ultimately harm workers by prompting employers to cut minimum-wage hours and jobs.
That veto was simply wrong, Buttigieg told convention attendees, who cheered and waved red "Veto Sununu" signs during the speech. Sununu, who has vetoed more than 50 bills this year alone, is running again in 2020 for a third two-year term.
Buttigieg also used his convention speech to counter the president, while calling on fellow Democrats to proceed with civility and a sense of purpose: "The answer to Donald Trump is not playing his game or going on his show. It is a laser focus on improving everyday lives and doing it in the name of shared values that light the way for a better future, the kind of boldness that will bring us together, not tear us apart," he said to applause. "That is the way forward."
After his speech, Buttigieg crossed the street to a park, where his campaign hosted a picnic complete with a live band and "Pete 2020" corn hole sets. The campaign counted 540 attendees. That included people from the convention and the general public. While passing out pizza, convention delegate Kathleen O'Donnell of Keene said her three favorite presidential hopefuls at the beginning of 2019 had been Sen. Amy Klobuchar of Minnesota, Sen. Kamala Harris of California, and Sen. Sherrod Brown of Ohio. Now her favorite is Buttigieg.
"One thing that people really like about Pete is he's future-focused. He's not just all about Trump," O'Donnell said. "It's a pragmatic, aspirational kind of communication. I think people really respond to that."
Other non-frontrunners drew praise from the convention crowd for similar messaging. Sen. Cory Booker of New Jersey, for example, had many of his Democratic opponents' supporters on their feet and cheering during his speech: "We must understand this election is not a referendum on one guy in one office," Booker said. "This election is a referendum on who we are and who we must be to each other. It is a referendum on the spirit of America."
Buttigieg's campaign used the convention, his tenth trip to New Hampshire since announcing his exploratory committee, to ceremonially expand his on-the-ground presence. The campaign opened 12 new offices across all 10 of the state's counties.
—Importantville Contributing Editor Steven Porter publishes Granite Memo, an email newsletter on New Hampshire politics.
FOR YOUR RADAR
South Bend Mayor Pete Buttigieg will join nine other Democratic candidates in his third debate Thursday at Texas Southern University, a historically black univeristy in Houston, at 8 p.m. EDT.

Indiana's delegation returns to D.C. today as Congress returns to session.
IMPORTANTVILLE SOUNDBITE
Buttigieg, speaking at the New Hampshire Democratic Convention Saturday:
And it's not just that the policies are bad. It's that our political leaders, especially in Washington, pit us against each other. And bring out the worst in us. 

They speak of patriotism. But surely patriotism lies in speaking up for our beliefs, not in shouting down those who dissent and telling them to go back to where they came from. The flag I saluted at daybreak when I was in the military wasn't a Republican flag, it was an American flag. 

They speak of freedom. But surely freedom includes the freedom to organize for good wages, and the freedom to control your own body, the freedom to choose your own spouse, and the freedom to be treated equally regardless of race.

They speak of faith, and family. But what faith, what family values, would condone families being torn apart at the border? Surely faith and family values has something to do with feeding the hungry and welcoming the stranger and lifting up the least among us.
AROUND IMPORTANTVILLE
Fox59's IN FOCUS

Buttigieg—who rarely blasts his email list, relative to other candidates—hit up subscribers with numerous emails Saturday in an effort to raise $750,000. I've heard from a number of potential Buttigieg supporters who unsubscribed.
IMPORTANTVILLE READS
Donald Trump's unexpected 2016 victory was a bit awkward for his running mate's political future and for his homelife, according to a new book about the vice president.

Instead of getting to run himself for the GOP nomination in 2020, Indiana Gov. Mike Pence would have to spend the next four years cleaning up after Trump, journalist Tom LoBianco writes in his book "Piety & Power: Mike Pence and the Taking of the White House" that publishes this month.

And then there was his angry wife.

Karen Pence had twice rebuffed her husband's celebratory kiss on election night before exploding, during a briefing the next day with Secret Service agents, over concerns about how the financially-strapped couple would pay for their new life.

"What are we going to do Mike?? We don't have any money! Who's going to pay for my inaugural gown??" LoBianco quotes Karen Pence as saying.

Pence's office declined to comment about the book.
Sen. Todd Young was hoping to get the White House's attention when he temporarily blocked a State Department nominee in December 2017, escalating his campaign to end a Saudi blockade of humanitarian aid into Yemen. What the GOP freshman from Indiana hadn't sought was a call from President Trump asking Mr. Young if he knew the president's margin of victory in the state and warning to drop his hold.

In a party where regularly opposing the president often results in a primary challenge or early retirement, Mr. Young has made the risky decision to become a high-profile skeptic of one of the administration's key foreign allies. After advancing to become the chairman of the National Republican Senatorial Committee—long a launching point for a career in Senate leadership—Mr. Young has continued to challenge Saudi Arabia's activity in Yemen and, by extension, the Trump administration's support for

With his work, Mr. Young is raising his profile as a contrarian Republican voice on foreign policy, as he hopes to change how members of his party think about confronting Iran. Unlike some Republicans critical of the administration who want to reduce U.S. military commitments abroad, Mr. Young is an internationalist, seeking to make humanitarian aid to Yemen a central part of a strategy to reduce Iranian influence in the region.

Mr. Young has joined with Democrats to craft legislation, hold hearings and write letters aiming to change Saudi and Trump administration behavior in Yemen, where a conflict between Houthi rebels allied with Iran and a Saudi-led coalition has threatened the lives of millions of civilians. He has repeatedly confronted Trump administration and foreign officials important to his political future, including Secretary of State Mike Pompeo, whom Senate Republicans are hoping will run for Senate in Kansas in 2020.
IMPORTANTVILLE TAKE: The Resistance crowd will blow me up for this, but Young is cutting a fascinating figure in D.C. Yes, he has toed the Republican line on many ways, but he is fashioning himself into the member of the delegation who closest hews to a legacy left behind by Sen. Richard Lugar on foreign policy.
That's all for today. Thanks for reading. Have a good week.