Discover more from IMPORTANTVILLE
Get smarter about the intersection of Indiana politics and power.
Over 3,000 subscribers
IN's first openly gay gubernatorial candidate—Buttigieg as Biden alternative?—Braun on climate change
"I'm running for governor now because I believe in an Indiana where teachers are paid what they deserve and where all are welcomed, respected and protected," Owens said.
By Adam Wren and design by Kris Davidson
Indiana saw its first openly gay gubernatorial candidate throw his hat in the ring yesterday, as 34-year-old SupplyKick CEO Josh Owens filed paperwork to become a candidate.
The Shelbyville native will run as a Democrat, though he has voted for both Republican and Democratic candidates in the past.
"I've got a lot of conservative friends, I've got conservative family members, and I've got a lot of liberal friends and liberal family members," Owens told me in an interview. "I think one of the things you learn running a business is that the important thing that a leader does is bring all of the stakeholders to the table, and make sure that everybody is heard, and find the best possible solution. And I think that's something that I can certainly bring to the governor's office if I'm elected."
Owens has been prepping for a run over the last few months and made the rounds at the Indiana Democratic Editorial Association Convention in French Lick last month.
Owens holds degrees from Wabash College and the London School of Economics. He lives with his husband, Andy, in Indianapolis.
Owens faces venture capitalist and former state health commissioner Woody Myers, Jr., in the primary. Myers has yet to raise a single $10,000 contribution during his months in the race. Meanwhile, GOP incumbent Gov. Eric Holcomb maintains a $6 million war chest, though he could face a primary from Hamilton County businessman Brian Roth.
"Fundraising is going to be something that we're going to be laser-focused on because that allows us to get our message out," Owens said. "I think we've got a bold set of policies that we're looking at enacting and having conversations around and so I think this is a race where obviously it's going to take $10-15 million to win this thing, to be competitive and have a shot at winning this election, and that's going to come from, not just typical Democrat donors, but I think hopefully a lot of people who aren't your everyday donors to political campaigns. And I think my background and my network, we've got a really good shot of getting them excited and getting them activated and bringing them into the campaign."
WHY HE'S RUNNING: "I think that our state policies right now are not really aligning with the values of our state. And I think maybe the best way we can look at that is we've had this ongoing conversation about teacher pay for the last few years. We've got teachers who have been paid the same amount for almost a decade in real terms for….it is a state that is not working for every Hoosier." Owens also told me watching South Bend Mayor Pete Buttigieg's presidential campaign encouraged him, in part, to run.
HIS TEAM: Pollster: Margie Omero with GBAO Strategies; direct mail vendor is Tim Henderson, John Gregg's 2016 campaign manager, with Wildfire; media is Colin Rogero/Matt Erickson/Sarah Flowers with 76 Words; digital is Veracity Media; research is Adam Kirsch at Sourced Strategies. Campaign chair is Angie Stocklin (co-founder of One Click Ventures); treasurer is Ash Kalgaonkar (recent) former Lilly exec.
INDIANA DEMOCRATIC PARTY RESPONSE: Chairman John Zody said in a statement: "Josh Owens is a new voice as the process to select the Party's nominee for governor continues to play out. Hoosier Democrats look forward to learning more about Owens' campaign and plans for our state. We know Eric Holcomb is a do-nothing governor who has failed to raise teacher pay, lower the cost of health care or clean up state government."
Good Tuesday morning, and welcome to IMPORTANTVILLE.
WHERE'S VEEP? He lunches with Senate Republicans at the Capitol, and makes remarks at a naturalization ceremony; later, he'll meet with the National Automobile Dealers Association.
WHERE'S PETE? He's on a day two of two day South Carolina swing. He'll head to Louisville tonight for a grassroots event.
---
TICKETS MOVING FAST: POLITICS & PINTS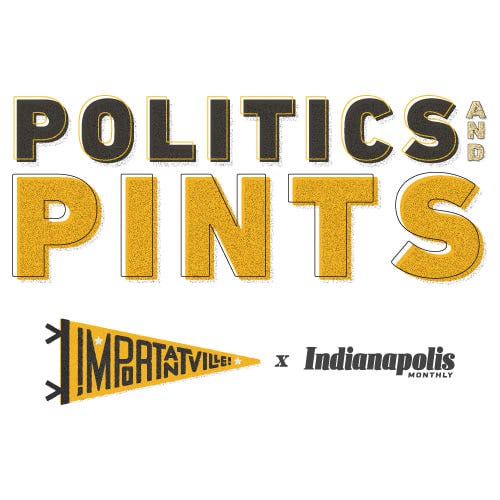 The first IMPORTANTVILLE event, hosted in partnership with Indianapolis Monthly, features live interviews with U.S. Sen. Todd Young and Democratic congressional candidate Christina Hale talking about the 2020 election cycle, news of the day, and Indiana's increasing influence in national politics. It'll be in the Emmis lobby on Monument Circle on Oct. 8.
THE BUTTIGIEG BEAT
Pete Buttigieg is drawing more contrasts with his Democratic opponents in the race. First, he questioned the wisdom of Medicare for All advanced by Sens. Bernie Sanders and Elizabeth Warren in Thursday's debate. On Sunday, he critiqued former Rep. Beto O'Rourke's approach to gun buybacks.
"Look, right now we have an amazing moment on our hands," he told Jake Tapper on CNN's State of the Union Sunday. "We have agreement among the American people for not just universal background checks, but we have a majority in favor of red flag laws, high-capacity magazines, banning the new sale of assault weapons. This is a golden moment to finally do something because we've been arguing about this for as long as I've been alive. When even this president and even Mitch McConnell are at least pretending to be open to reforms. We know that we have a moment on our hands. Let's make the most of it and get these things done."
The comments stirred speculation that Buttigieg was backtracking on comments he made in the second debate about not caring how Republicans reacted to Democratic proposals.
They also led some on the left to speculate whether Buttigieg was tacking to the center to become a Biden alternative.
O'Rourke himself also chimed in.
On Monday in South Carolina, Buttigieg reframed his remarks:
IMPORTANTVILLE TAKE: Buttigieg has been talking about Medicare for All Who Want It since January, and his gun policies haven't changed. If there's any movement to the center from Buttigieg, it's tonal and not on the policy front. Still, Buttigieg's success rests in part on cutting into Biden's support.
Elsewhere on the beat:
Buttigieg unveiled his disaster preparedness plan this morning, which would establish a Disaster Commission during his first 100 days in office.

Buttigieg is planning a four-day bus tour around Iowa next week.
AROUND IMPORTANTVILLE
State Sen. Jim Merritt, who is running against Democrat Indianapolis Mayor Joe Hogsett is talked about minority businesses at The Madam CJ Walker Legacy Center at 10:30 a.m. "As Mayor, Joe Hogsett has ignored minority business enterprises, except for when he chooses to hand out contracts to a close-knit group of political insiders," Merritt said. "Simply put, the current administration's support of minority and women-owned business is abysmal."

Hogsett's campaign was already pushing back before the presser began: "Despite a thirty-year history of voting against the interests of communities of color in Indianapolis, this morning's attempt to appropriate the legacy of Madam C.J. Walker for Senator Merritt's political benefit is equal parts crass and ironic," Heather Sager, campaign spox, said in a statement. "Since taking office, Mayor Joe Hogsett has focused on helping lift up all businesses—particularly those businesses certified by the city's Office of Minority and Women Business Development."

Hogsett launched two radio ads yesterday, "BETTER CITY" and "PASTOR."

Rep. Jim Banks (R-Columbia City) is tying Buttigieg to the discovery of more than 2,000 fetuses kept by a now-deceased Indiana abortion doctor.
MAJOR MOVES
Congrats to Importantville denizen Taylor Schaffer on her admission this week to the latest Stanley K. Lacy Executive Leadership Series class.
IMPORTANTVILLE READS
The Senate will soon be getting its own bipartisan caucus focused on addressing climate change.

A bipartisan duo of Sens. Mike Braun of Indiana and Chris Coons of Delaware are organizing the new caucus, which is still in the planning stages and will be formally unveiled in the coming weeks, according to the senators' staffs.

The caucus would be the first bipartisan group on the Senate side dedicated to climate change discussions. Democratic senators currently have a special climate committee and Republicans have formed a conservation caucus, but neither include members across the aisle.

The group's formation comes as some Republican lawmakers are becoming more engaged in climate policy discussions and as polls show voters paying more attention to the issue.

Climate change should be a "bridge issue," Braun told the Washington Examiner in an interview, adding that many Democrats are also looking for a change in dynamic and Republican partners on climate policy.
So far, there is no indication that Buttigieg's next-generation appeal has liftoff. His early summer national buzz, largely the product of his raising a stunning $25 million in the second quarter, gave him plausibility. He enters the autumn stretch to the February caucuses with as robust an Iowa campaign as almost any of his top tier rivals, with more than 100 staff, plans for 20 offices and an aggressive outreach system.

He does so with his sights squarely fixed on capturing that enduring ideal for Democratic primary voters, a next-generation prophet looking deep into the future, like virtually every winning Democratic nominee going back 60 years.

"If you look at the history of successful Democratic nominees, they tend to be younger, they tend to be from outside," David Axelrod, a former senior adviser to President Barack Obama said, referring to Obama and Presidents Bill Clinton and Jimmy Carter. "The question is whether the overhang of Donald Trump creates a different environment where people are risk-averse and reaching for comfort and stability."
That's all for today. Thanks for reading and subscribing. Did a friend forward this? Click below to subscribe.