Discover more from IMPORTANTVILLE
Get smarter about the intersection of Indiana politics and power.
Over 3,000 subscribers
Inside Buttigieg's DNC remarks–ISTA passes on gubernatorial race—Rokita fundraiser
Plus: Will Buttigieg run in Indiana anytime soon? "I'm certainly not looking at, or thinking of running for any office right now."
In his primetime Democratic National Convention address tonight from a currently undisclosed historical landmark in South Bend, former South Bend Mayor Pete Buttigieg will speak on the topic of belonging, the former presidential candidate told me in an interview.
"We've had a sense of isolation and a crisis of belonging for a long time, and now it's been deepened by the conditions of the pandemic," Buttigieg said in an interview hours before he cast Indiana's roll call vote Tuesday night. "And if we can't learn to be one country, if we can't develop a level of trust in our institutions and in each other, then we're not going to be able to navigate these challenges."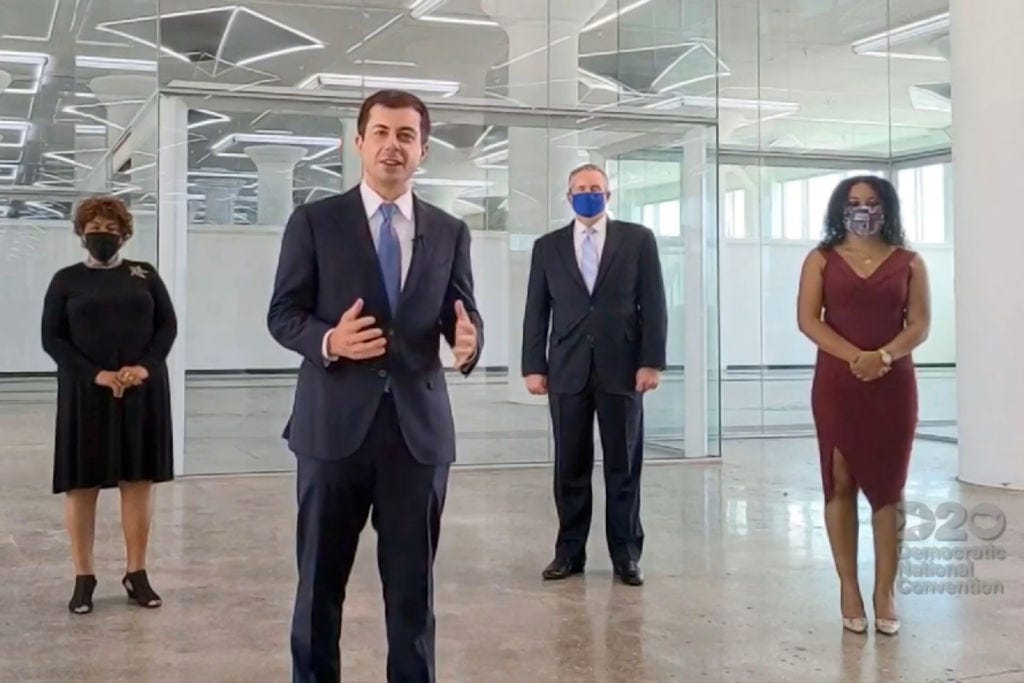 In this screenshot from the DNCC's livestream of the 2020 Democratic National Convention, Delegates from Indiana with Former Mayor of South Bend Pete Buttigieg addresses the virtual convention on August 18, 2020. The convention, which was once expected to draw 50,000 people to Milwaukee, Wisconsin, is now taking place virtually due to the coronavirus pandemic. (Photo by DNCC via Getty Images) (Photo by Handout/DNCC via Getty Images)
In a preview of his remarks, the Democratic National Convention Committee released several excerpts of tonight's remarks, which center around the theme of "America's Promise."
Buttigieg will speak just after a tribute to Beau Biden, which is notable given that Biden has said Buttigieg reminds him of his son. What Buttigieg will say, in part:
"Just over ten years ago, I joined a military where firing me because of who I am wasn't just possible—it was policy. Now in 2020, it is unlawful in America to fire anyone because of who they are or who they love. The very ring on my finger reflects how this country can change."

"Every American must now decide. Can America be a place where faith is about healing and not exclusion? Can we become a country that lives up to the truth that Black lives matter? Will we handle questions of science and medicine by turning to scientists and doctors? What will we do to make America into a land where no one who works full time can live in poverty?"
Interview highlights:
On whether the Win the Era PAC's endorsements will be enough to get Hoosier Democrats across the finish line in barn-red Indiana: "Well, I certainly hope to make a positive difference. When you run for office in Indiana as a Democrat, you know you're running into headwinds, but we also know that it can be done. We've seen so many unlikely victories here in Indiana, and I think if there's ever been a year for that to happen once more, it's right now in 2020. So I'm excited about candidates at every level, including the ones who we've endorsed in the area and obviously hopeful that it will make a positive difference to take some of that visibility, knowing that maybe some national observers don't always think of Indiana when they think of the democratic party and make sure that we get some attention on our leadership. The people we're putting forward I think really meet the moment and I'm excited to do my part to help amplify their message."

On whether he's thoroughly ruled out running for Senate in 2022 or governor in 2024 in Indiana? "I'm certainly not looking at, or thinking of running for any office right now. And we're also in a world of so much uncertainty that I think we've got to stay really focused on the road ahead and make sure we're successful in November."
Good Thursday afternoon, and welcome to IMPORTANTVILLE.
AROUND IMPORTANTVILLE
A new DCCC internal poll has Democratic 5th Congressional District candidate Christina Hale up 5 points over her Republican opponent, State Sen. Victoria Spartz.

Meanwhile, the same poll has former Vice President Joe Biden leading President Trump in the district, 55% – 42%. Read more about the poll here.

In an incredible political break for incumbent Republican Gov. Eric Holcomb and a setback for Democratic challenger Dr. Woody Myers, the Indiana Political Action Committee for Education (I-PACE), the political arm of the Indiana State Teachers Association, will not endorse a gubernatorial candidate for the first time in recent history.

"With the importance of the coming legislative session, members of I-PACE have made the strategic decision to focus time and resources on state legislative races," said I-PACE Chair Randall Studt in a statement announcing the political action committee's priorities for the 2020 general election. "Funding for public schools, increasing teacher pay and restoring bargaining rights will all depend on bringing more balance to the Indiana General Assembly. The legislature has been a continuous roadblock for positive change in Indiana's public schools and this will be the majority focus of our limited financial resources this election. Also, we have a number of ISTA members running viable campaigns in several state legislative races. These members need both our financial and volunteer support. For these reasons, I-PACE does not plan to invest financial resources in the race for Indiana governor as I-PACE has done in the past through our endorsement process."

Republican Attorney General nominee Todd Rokita is headed to an out-of-state, in-person fundraiser on Aug. 23 in Sea Island, Georgia, hosted by the Republican Attorneys General Association. The fundraiser is in a state that's been in the news increases in COVID cases.
Club for Growth Action releases Hale attack ad
In Indiana's 5th Congressional District, Club for Growth Action, the dark money group backing Spartz, released "Guess who," an ad attacking Hale's record on taxes and the public action, backed by a $218,000 buy in the Indianapolis media market.
The Hale campaign response:
"It comes as no surprise that Club for Growth would try to buy this election for Victoria Spartz," said Joann Saridakis, Hoosiers for Hale campaign manager, in a statement. "After all, this dark money group is known for bankrolling candidates who put the insurance industry's profits first and work to eliminate affordable health care options, strip away protections for people with pre-existing conditions, and privatize social security. And that's exactly who Victoria is. She has spent her campaign advocating for insurance companies instead of better health care for her constituents. Hoosiers deserve a candidate like Christina Hale, who's focused on the real issues facing her community, not someone who's bought and paid for by DC special interests."
IMPORTANTVILLE READS
The 38-year-old Buttigieg stressed that Democrats must "make that choice up close and personal for those … who are going to be around to deal in the 2050s with the consequences of decisions that were made in the 2020s." Yang, 45, apologized for leaving future generations "an awful mess." It's not their fault, he said, "but we need their help to clean it up."

Buttigieg, the former mayor of South Bend, Indiana, and Yang, an entrepreneur, were unknown to most of America 18 months ago. But their own campaigns for president this year elevated them as national figures. Buttigieg, the first openly gay candidate to run a major campaign for president, offered a generational message that, despite his youth, resonated with older voters who saw him as a model of how a young leader should carry himself. Yang — one of two Asian Americans in the race along with Sen. Kamala Harris, now Biden's running mate — cobbled together a coalition of young libertarian- and progressive-minded supporters drawn to his push for a universal basic income (UBI) in the form of $1,000-a-month freedom dividends.
One hundred years ago this month, women in the U.S. were officially granted the right to vote. It was a huge stride, and plenty of Hoosiers stepped up to make it a reality.

Fifty years later, women were still pounding the pavement, holding a Strike for Equality in 1970 with the goal of gender equality in employment and education. Women then were only making 59 cents to every man's dollar. The strike gained the feminist movement national visibility.

In 1972, the Equal Rights Amendment was passed by Congress and went to the states for ratification. Despite its simple statement ("Equality of rights under the law shall not be denied or abridged by the United States or by any state on account of sex"), the ERA was muddied from its onset.

There was plenty of opposition, led in Indiana by Republican state senator Joan Gubbins and inspired nationally by the determined Phyllis Schlafly and her STOP ERA movement. Their strategy pitted equality against morality, and it was effective. Schlafly, subject of the recent Hulu miniseries Mrs. America, became known as the "sweetheart of the Silent Majority." The ERA, she argued, would hurt families by paving the way to same-sex marriage, abortion on demand, and women being drafted into military combat.
That's all for today. Thanks for reading.