Discover more from IMPORTANTVILLE
Get smarter about the intersection of Indiana politics and power.
Over 3,000 subscribers
Inside the IN Dem convention & Hoosier Hospitality dinner + Pence's 2024 moves
And: Surgeon General Jerome Adams on George Floyd.
By Adam Wren and design by Kris Davidson
Michigan Gov. Gretchen Whitmer told some 2,500 Indiana Democrats gathered for their first virtual state convention on Saturday that the novel coronavirus pandemic underscores the need for electing Democrats to public office.
"The stakes couldn't be higher," said Whitmer, who has been mentioned among former Vice President Joe Biden's veep shortlist picks. "This crisis has shown us how important it is to have Democratic leadership at every level to protect public health, help families put food on the table, make government work for everyone, and protect our right to vote.
On Friday, Illinois Congresswoman and Chair of the Democratic Congressional Campaign Committee Cheri Bustos keynoted the party's Hoosier Hospitality Dinner, arguing that electoral inroads the party made last year in municipal elections bolster the future of the party here.
"You have paved the path for Christina Hale to flip the 5th District of Indiana this November," Bustos said. "So last year, the Democratic Congressional Campaign Committee invited Christina to our Democratic headquarters in Washington D.C. as one of our very first Red to Blue candidates in the entire country. Now, keep in mind that it is a very, very exclusive list. Only 12 people were named to that initial list."
WHAT THEY SAID:
DNC CHAIR TOM PEREZ: "In November, you will get the opportunity to protect and expand the U.S. House of Representatives majority the Democrats now hold by voting for candidates like Christina Hale, Frank Mrvan and others around the state, and re-electing my friend Congressman Andre Carson to another term."

REP. ANDRE CARSON: "It seems like [Donald Trump] wants to make America hate again. He's willing to tear gas protesters that stand in the way of his photo ops."

GUBERNATORIAL CANDIDATE DR. WOODY MEYERS: "I believe that we are at a crossroads and that the lens of the George Floyd murder, the lens COVID-19, will help focus the attention of our state on the underlying issues. In addition to race relations, it's our public health infrastructure. It's our economy. It's our K-12 education system. All of which have been damaged through approximately 15 plus years of Republican leadership."

INDIANAPOLIS MAYOR JOE HOGSETT: "A president once told us, 'Yes, we can.' In the coming years, the converging generational crises that we face will not go away. Fear and anxiety born of a global pandemic, anger, and sadness, warn of pervasive prejudice and violence. The world is undoubtedly changing us. The question is whether we will find a way to come together and change the world."

AG CANDIDATE JONATHAN WEINZAPFEL: "It has been an exciting yet tumultuous six months since I entered the race for attorney general. Initially, I thought that this would simply be a campaign focusing on Curtis Hill's ethical transgressions and his efforts to take away your healthcare. In the past several months, it has become clear that it'll be much more than that. With the onset of the coronavirus pandemic and the tragic murder of George Floyd, this election has taken on a new dynamic. More than ever, Indiana needs an attorney general that can bring people together to solve the complicated problems facing our state."

AG CANDIDATE STATE SEN. KAREN TALLIAN: "Recent events have once again turned good people to violent protests. We need leaders, and I can do that. We have to take this important office. And this year, we can do it if we choose the right candidate. Our recent poll shows that I can win. And I am ahead of all the other Republicans by seven points."
WHAT'S IT LIKE TO COVER THE FIRST VIRTUAL INDIANA DEMOCRATIC CONVENTION? Here's a taste from today's Zoom chat: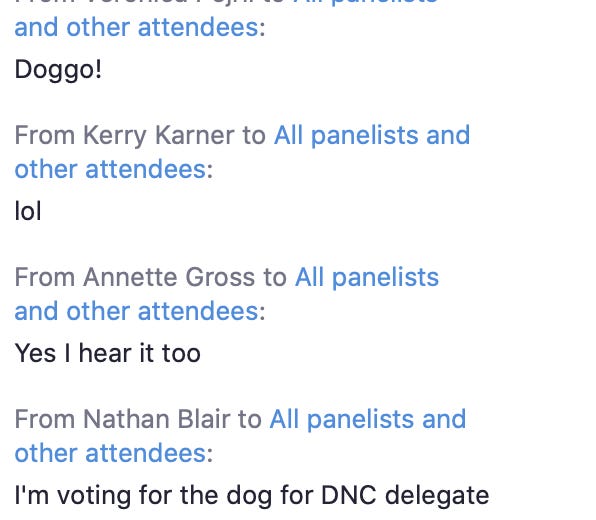 ON THE AG RACE: THE COOK POLITICAL REPORT CHANGED THE RATING YESTERDAY. It's gone from "Lean Republican" to "Toss Up":
In Indiana, there's simply too much uncertainty about whether the nominee will be scandal-tarred incumbent Republican Curtis Hill, who would be more vulnerable than a generic Republican in this red state.

…

Democrats, meanwhile, are looking at the AG race as their biggest target in Indiana in 2020, and they have two candidates: former two-term Evansville Mayor Jonathan Weinzapfel, who more recently served as chancellor of the state community college's southwestern region, and state Sen. Karen Tallian, an outspoken figure on the environment, labor, and marijuana legalization. If Hill is the nominee, he could see dwindling support from suburban Republicans, especially women, giving Democrats a shot at the AG office even in red Indiana. The Democrats' chance of winning would probably be narrower if Hill is denied the nomination. Because of the uncertainty, we're moving this race from Lean Republican to Toss Up, though it could shift back depending on how the GOP nomination works out.
WHAT'S NEXT: Hoosier Democrats are expected to unveil their attorney general candidate next Thursday on June 18, as they tally vote-by-mail results. Meanwhile, Indiana Republicans will hold their convention beginning that same day (You can live stream here and the program is available here).
Good Saturday afternoon, and welcome to IMPORTANTVILLE.
WHERE'S VEEP? He has no scheduled events this weekend.
POOL INTERVIEW WITH PENCE: CBS News Radios' Steven Portnoy interviewed Pence on his Pennsylvania trip. Highlights here:
Q. Agree that there's systemic racism?

"I acknowledge that there is racism in America, just as there is in every nation on Earth. We've obviously had a great challenging history for African Americans over the last 400 years. But I truly believe that every American can be proud of the progress that we have made over the life of this nation……"

Q Should choke holds be banned.

"I think it has to be considered."

Q. Why were more people on your staff not wearing masks in the photo that was tweeted and deleted?

"I know that there was a very brief gathering while I was walking through the room. I was happy to great them and speak a few words. I'm very confident that all the actions there were appropriate."

WEEKEND MUST-READ: A number of longtime residents of Hamilton County—the suburban county north of Indianapolis—will soon find their last name on KKK membership cards. Indianapolis Monthly has a timely piece on How Ku Klux Klan records from the 1920s remained out of sight for almost 100 years: "The plan was for the collection to be made available once preparation was complete, with a target date in April 2020. But the COVID-19 health crisis has delayed the reckoning, and the Klan collection from Hamilton County remains inaccessible to all but a small handful in a large storage room lined with metal shelves among thousands of articles, maps, and photos in acid-free folders and boxes—a painful chapter of Indiana history that remains partially untold and fully unresolved."
BIDEN HUDDLES WITH INDIANA DEMOCRATS
Congressman André Carson and Indiana leaders hosted a virtual roundtable on former Vice President Joe Biden's "Lift Every Voice" Plan for Black America
PANEL MEMBERS: Evansville City Council Alex Burton, Deputy Chair of the Indiana Democratic Party Dana Black, and President of Indiana Democratic African American Caucus – Indianapolis Chapter Ashley Gurvitz.
GOP RESPONSE: "Whether Joe Biden's making racially insensitive comments directed towards the Black community or harming Black-owned businesses with his radical opposition to reopening the economy, the choice for President couldn't be clearer," said Trump Victory Spokesman Chris Walker in a statement. "Since President Trump stepped into the office, he and Republicans have delivered groundbreaking criminal justice reform, built the best African American job market on record, provided more funding for Historically Black Colleges and Universities, and created Opportunity Zones that will provide unprecedented results to minority communities across Indiana and the country. Hoosiers know that Biden is all talk and no actions, while President Trump will always be a champion for Black Americans."
BUTTIGIEG TO YOUNG DEMS: Former presidential candidate and South Bend Mayor Pete Buttigieg will headline at the 2020 Indiana Young Democrats Virtual State Convention next Saturday.
"We are thrilled to announce that Mayor Pete will join us virtually on June 20," said Arielle Brandy, President of Indiana Young Democrats, former Indiana State Director for Pete for America and South Bend native, in a statement. "After running a historic campaign for President seeking to represent an unheard generation of voices, Mayor Pete can speak directly to young Democratic leaders looking to make change right now across our country. Mayor Pete has long been a supporter of the Indiana Young Democrats, and our organization is honored to welcome him back home for the 2020 Indiana Young Democrats State Convention, for the first time online. IYD longs for leaders like Pete who brings with him the new perspective of our generation." 
IMPORTANTVILLE READS
Few have been preparing for the moment quite like Pence. He's been working for decades to build his name in politics, and in all of his past campaigns, he's used the invisible levers of power to clear the primary field — first for Congress and then for governor. The vice president has also been working behind the scenes since 2008 to build an unbreakable bank of support.

"Pence is going to have a lot of goodwill from the base," one veteran GOP strategist said. "He's been a very good, very loyal vice president. He's going to be a big part of the conversation."
Four years later, after the police killing of George Floyd, a 46-year-old black man whose death sparked worldwide demonstrations, Pence is quietly changing his message to fit a new moment without appearing to be in conflict with his boss. As President Donald Trump and other senior administration officials dispute the very notion of systemic racism within local and federal law enforcement agencies, Pence has acknowledged that a nationwide conversation is needed on those topics. The adjustment in Pence's approach comes as he works to neutralize Trump's antagonistic outbursts — including tweets comparing protesters to "thugs" and taunting Democratic leaders over scenes of chaos in their states — and chart his own course as a compassionate conservative who could expand the MAGA base if he ran on his own in 2024.
U.S. Surgeon General Jerome Adams told POLITICO that he sees parallels between himself and George Floyd in his most extensive comments about the death of the unarmed black man that launched a wave of national protests.

Floyd was "the same age that I am," Adams told POLITICO's "Pulse Check" podcast, reflecting on the 46-year-old's death at the hands of Minneapolis police last month, which was captured on video and immediately shared around the globe. "And I look at him, and I really do think that could have been me."
Vice President Mike Pence deleted a tweet he sent on Wednesday evening showing dozens of President Donald Trump's reelection campaign staffers standing closely together without masks on — a clear violation of the White House's social distancing guidelines.
THE SUNDAY SHOW
On this week's edition of IN Focus: Interviews with Sen. Todd Young, Attorney General Curtis Hill, former Rep. Todd Rokita, Rep. Andre Carson, Rep. Greg Pence. Panelists: Laura Wilson, Robin Winston, Tony Samuel. Airs Sunday morning at 8:30 a.m. on CBS4, 9:30 a.m. on FOX59.
That's all for today. Thanks for reading and subscribing.