Discover more from IMPORTANTVILLE
Get smarter about the intersection of Indiana politics and power.
Over 3,000 subscribers
McCarthy to Indiana—Democratic AG candidate exclusive—Obama endorses Hale
Meet Indiana Democrats' best chance at statewide office.
By Adam Wren and design by Kris Davidson
Jonathan Weinzapfel might be Indiana Democrats' best ticket out of the political wilderness.
Since the political exits of former Sen. Joe Donnelly and Superintendent of Public Instruction Glenda Ritz, the party has held no statewide office in the Hoosier state. And with Democratic gubernatorial nominee Dr. Woody Myers trailing Republican Gov. Eric Holcomb by 20 points in at least one poll, and trailing him in fundraising $8 million to $70,000, Myers faces an uphill slog.
Enter Weinzapfel, the Democrats' nominee for attorney general, former mayor of Evansville, state representative, and Ivy Tech Evansville chancellor.
Weinzapfel entered the race thinking he would challenge Republican incumbent Curtis Hill, who lost his party's nomination after the state Supreme Court suspended his law license for drunkenly groping four women, including a state lawmaker, at a bar in 2018. Instead, Republicans picked former Rep. Todd Rokita, who poses a more difficult obstacle for Weinzapfel, given Rokita's deep electoral history and name identification across the state. Rokita's campaign has dismissively trolled Weinzapfel, misspelling his name in a variety of ways in news releases and public statements.
Weinzapfel remains undeterred. In the middle of statewide travel from Evansville to South Bend and back, Weinzapfel phoned me from outside the Statehouse this week for a wide-ranging interview. The highlights:
On facing Rokita instead of Hill:
"Well, he was our second choice, to put it frankly. No, he is someone who has been pretty far out there on the right-wing. He has angered quite a few Republicans and I think has pretty soft support within the party. And that's I think a perfect environment for us to be successful in the fall."
On what his relationship would be like with Republican Gov. Eric Holcomb, should he and the incumbent win, and Myers loses:
"Well, I'll give you an example. Two weeks ago, Gov. Eric Holcomb issues an order for wearing masks in public. Curtis Hill issues an advisory order saying the governor doesn't have the legal authority to do it. We immediately issued a statement saying one, I support the governor's policy, but two, he clearly has the legal authority to order masks to be worn in public places. Todd Rokita gave some mealy-mouth answer and really didn't answer the question because he's afraid he might offend somebody. So I think that right there really epitomized the relationship that I would expect to have with governor Holcomb if he is re-elected. I will focus on what's best for Hoosiers and Hoosiers deserve to have a government that functions. They want to see their elected officials regardless of party work together to improve their lives and that's what I'm committed to doing."
Paid subscribers can read the full interview next Monday.
Good morning, and welcome to IMPORTANTVILLE.
Where's VP? Pence has no scheduled events over the weekend.
---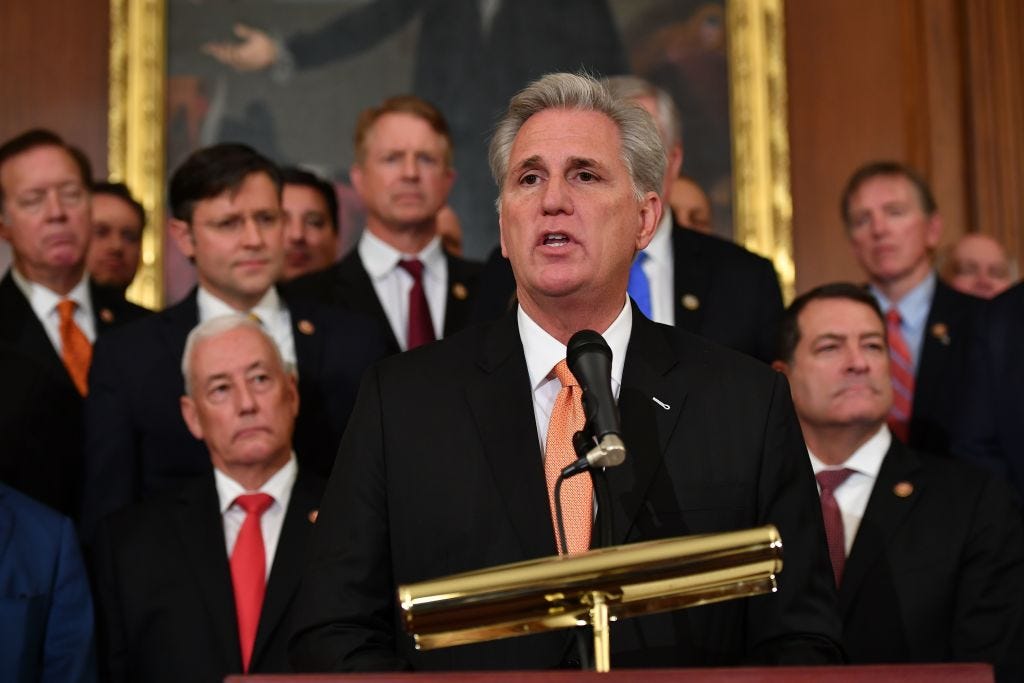 House Minority Leader Kevin McCarthy, Republican of California, speaks during a press conference on the impeachment process in the Rayburn Room of the US Capitol in Washington, DC on October 31, 2019. (Photo by MANDEL NGAN/AFP via Getty Images)
Republican Leader and U.S. House Rep. Kevin McCarthy will headline a Trump Victory fundraiser in Greenfield next Thursday, Aug. 13. The finance committee including Reps. Jim Baird, Jim Banks, Susan Brooks, Larry Bucshon, Trey Hollingsworth, Greg Pence and Jackie Walorski will host.
Also in attendance: Dan Dumezich, Bob Grand, John Hammond, Marty Obst, John Pence and Victor Smith.
VIP tickets are $10,000 per couple; roundtable tickets are $25,000; general reception tickets are $2,800; young professionals can get in for $500.
AROUND IMPORTANTVILLE
Hammond Mayor Tom McDermott, who lost his congressional bid for the 1st Congressional District to Democratic nominee Frank Mrvan in June, filed a statement of candidacy with the Federal Election Committee designating the McDermott for Congress committee as his principal campaign committee for 2022. Does that mean he's weighing a challenge to Republican Sen. Todd Young? "I'm keeping my options," he told me this week. "I may run for president in 2024. I was inspired by Pete Buttigieg."

Democratic nominee for the 5th Congressional District Christina Hale received the backing of former President Barack Obama this week.

Republican Attorney General nominee Todd Rokita was re-nominated for a 6-year post on the Amtrak board. The nomination raises questions about Rokita's bid for attorney general, and whether such a move is legal. His campaign wasn't immediately available for comment.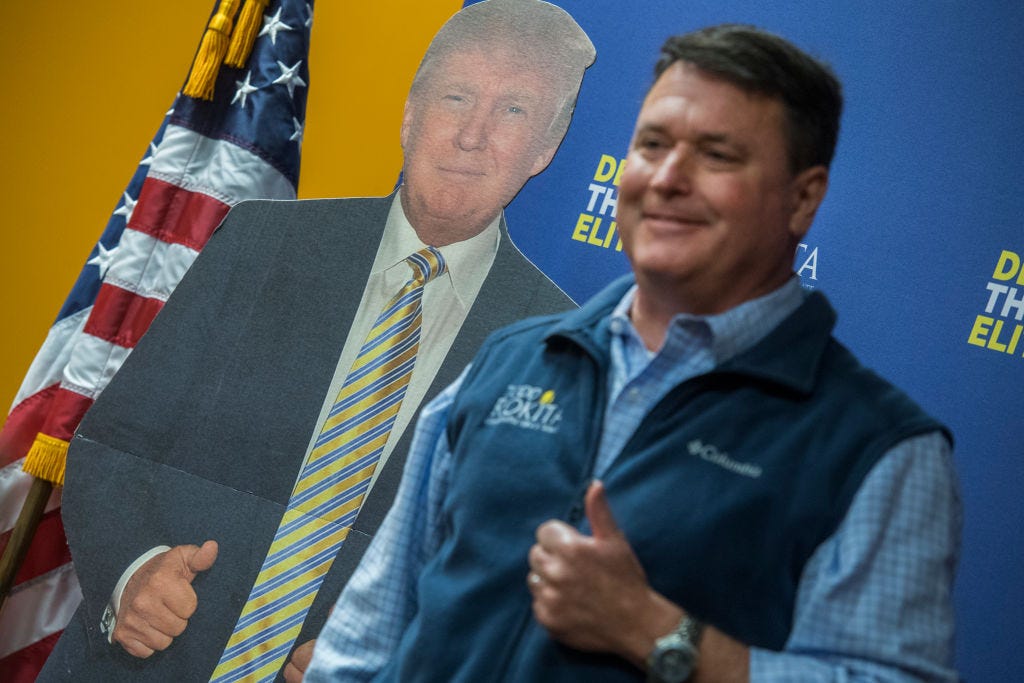 UNITED STATES - APRIL 5: Rep. Todd Rokita, R-Ind., who is running for the Republican nomination for Senate in Indiana, addresses voters in South Bend, Ind., on April 5, 2018. (Photo By Tom Williams/CQ Roll Call)
IMPORTANTVILLE READS
The [Democratic] party has publicly released a slew of polls in June and July showing tight, low single-digit races in over a dozen GOP-held seats that Trump won — many of them with double-digit victory margins.

Among the more surprising data: Democrat Kathleen Williams tied Republican Matt Rosendale in a race for Montana's open at-large seat, where Trump won by 20 points; Democrat Christina Hale was up 6 points in an open Indianapolis district that Trump carried by 12 in 2016; and Democrat Wendy Davis trailed Roy by just 1 point in a central Texas district Trump carried by 10 points.
It was the purple Powerade that convinced her.

Kennedy Heim's first day of high school was last Thursday. By the weekend, her school in central Indiana had already closed its doors, after a staff member tested positive for the coronavirus and other employees were required to quarantine.

Kennedy's mother got a call from a contact tracer saying her daughter, a 14-year-old freshman, might have been exposed. So on Monday, they went for testing at the National Guard Armory, just down the street from her school. Wednesday morning, they got the results: Kennedy had tested positive.
That's all for today. Thanks for reading. Have a good weekend.

---