Discover more from IMPORTANTVILLE
Get smarter about the intersection of Indiana politics and power.
Over 3,000 subscribers
On to South Carolina
Plus: Hale's new all-women campaign team.
By Adam Wren and design by Kris Davidson
In the wake of a distant third-place finish in Nevada's low-turnout caucuses, Pete Buttigieg sharpened contrasts with Bernie Sanders this weekend, arguing the Vermont Senator would imperil "front-line House and Senate Democrats," and laying the groundwork for what could be his last attempt to become the moderate consensus challenger in the Democratic race.
"Before we rush to nominate Senator Sanders in our one shot to take on this president," Buttigieg said Saturday in Las Vegas, "let us take a sober look at what is at stake for our party, for our values, and for those with the most to lose." (The Buttigieg campaign alleged a number of errors and irregularities in caucus vote totals in a letter to the Nevada Democratic Party.)
In a state-of-the-race memo to reporters last week, Buttigieg's campaign argued that "buying ads isn't enough to win." Tom Steyer's sugar-rush showing in Nevada polling and fifth-place finish may spell a similar fate for Michael Bloomberg.
"If Bloomberg remains in the race despite showing he can not offer a viable alternative to Bernie Sanders, he will propel Sanders to a seemingly insurmountable delegate lead siphoning votes away from Pete," according to the Buttigieg campaign memo.  
Buttigieg must now contend with a resurgent Biden, who finished ahead of him in Nevada by nearly seven points—and whose name was absent from the Buttigieg memo (along with every other Democratic candidate but Bloomberg and Sanders).
In South Carolina on Wednesday, Biden is expected to win the backing of Rep. James Clyburn, the Palmetto State kingmaker.
Looking ahead to Super Tuesday, Buttigieg needs $13 million to compete, his campaign said last week. But it will take more than that to keep him on the trail. Sen. Amy Klobuchar is targeting delegate-rich Minnesota, her home state, and Colorado, where she announced today a five-city tour. Her campaign announced a $4.2 million ad buy in Super Tuesday states. Klobuchar is spending less per vote than Buttigieg, according to her campaign, but Buttigieg isn't far behind.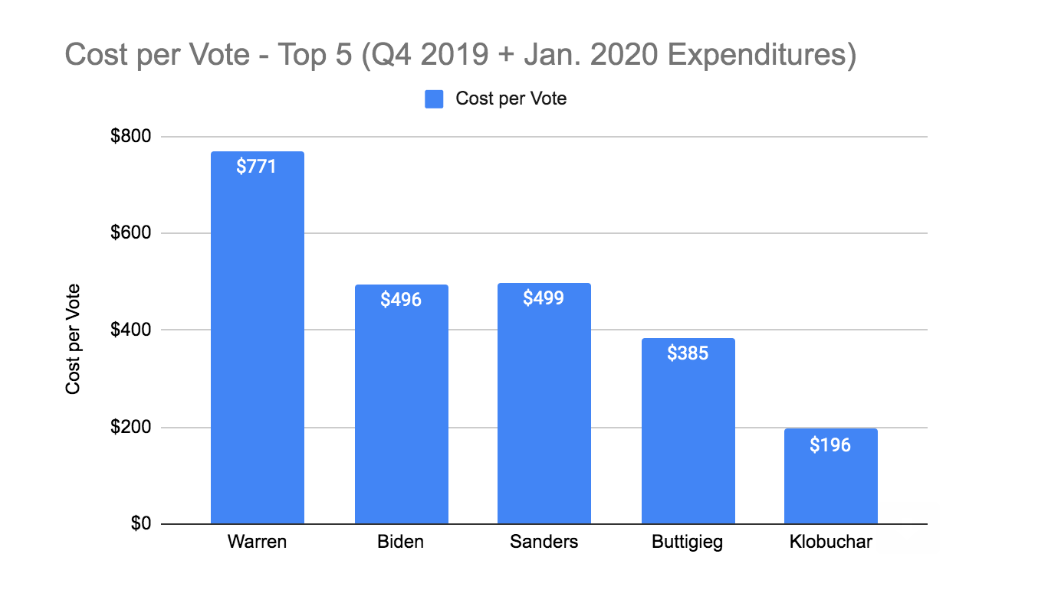 Meanwhile, the Vote Vets super PAC backing Buttigieg announced a seven-figure ad buy in Super Tuesday states for the candidate.
Only 3 percent of delegates have been awarded in the Democratic primary, a fact you'd be forgiven to have missed after the latest round of breathless coverage.
WHAT'S NEXT: Which Super Tuesday state is Buttigieg most likely to win, if any? Does his path to the nomination increasingly run through a contested convention?
Good Monday afternoon, and welcome to IMPORTANTVILLE. This is my last dispatch from Indiana before heading to South Carolina later this week.
I'm designating Jason Isbell's Palmetto Rose as the official soundtrack of the South Carolina primary.
INTERESTING HOOSIER PRESIDENTIAL CANDIDATE TRIVIA: Of the Hoosiers to seek the presidency during the modern-day primary system, Super Tuesday has been an obstacle: Birch Bayh dropped out on March 5, 1976, and Dick Lugar dropped out on March 6, 1996. Vance Hartke lasted until March 26 in 1972, though there were fewer primaries. Dan Quayle dropped out before the Iowa caucuses in 1999.
WHERE'S VEEP? He attends a fireside chat at Hoover Institution Board of Overseers and then participates in a swearing-in ceremony for Eleni Roumel, the Fifth Circuit judge.
WHERE'S PETE? He's in Charleston, where he will join striking McDonald's workers and hold two town halls, including one with CNN at 10 p.m, ahead of tomorrow's debate.
Days until South Carolina's primary: 5
Days until Super Tuesday: 8
Days until Indiana's primary: 71
FOCUS ON THE FIFTH
What would Sanders's presence at the top of the Democratic ticket mean for Indiana's contested 5th Congressional District? If 2018 Red to Blue Democrats who won House seats are any indication, things could look bleak for Democratic challengers looking to replace outgoing Republican Rep. Susan Brooks: Sanders has received no endorsements from the 43 Red to Blue Democrats who won seats in 2018. (For context, Buttigieg has received one such endorsement: New Jersey's 3rd Congressional District's Andy Kim; Biden has received seven, the most of the Democrats.)
Indiana 5th Congressional District hopeful Christina Hale, the Democratic candidate who is racking up national endorsements, now has an all-female team, with Joann Saridakis taking over the helm. Andy Bilyk left for the Michael Bloomberg campaign. Saridakis began last week.
"All Hoosiers benefit when women have a seat at the table," Saridakis told me in a statement. "We're excited to have an all-women team that will get Christina elected to Congress, so she can continue fighting for increased access to affordable health care and an economy that works for everyone."
In other news out of the 5th, Sen. Mike Braun endorsed fellow Republican Beth Henderson in the race. "Beth, you're going to win this seat," he said at an event for the candidate last week. "I'm all in for Beth," he added. Henderson is the first out of 16 candidates to put out television and radio advertisements, according to her campaign. The advertising buy was a five-figure ad buy covering targeted cable, TV and radio.
AROUND IMPORTANTVILLE
Fox 59's IN Focus continues to provide field-leading coverage of the 5th Congressional District race. You can listen to a range of interviews from yesterday's episode here.

Sen. Mike Braun stopped by Shapiro's Deli last Thursday. I'll publish my full interview with one of Trump's top impeachment defenders later this week.
IMPORTANTVILLE READS
Among the rest of the Democrats, only Pete Buttigieg—slightly ahead of Sanders in the delegate chase [pre Nevada] —has proven himself a durable fundraiser, working the big-donor circuit as hard as his email list. He has a packed fundraising schedule over the next two weeks. But Buttigieg has to show growth among nonwhite voters. His donor support may shrivel if he doesn't. "Donors are the consummate CNN and MSNBC viewers, they watch media trends, they pay attention to the buzz," said Gifford. "They invest their money with all that in mind. If the narrative out there after South Carolina and Nevada is that Pete can't win voters of color, his donors will jump ship. And look, the opposite could be true with Biden. If the media writes you off as dead and then you over-perform in Nevada or South Carolina and give a rip-roaring speech, the donors will come back. When I was with Obama, I always kind of knew in my gut how much we would raise based on the media narrative."
There are a lot of ways for Curtis Hill to lose his job.

The only way for him to keep it — and even this might not be enough — is for Hill to convince a plurality of rank-and-file Republicans to stick with him through a gauntlet of career and political perils as he fights credible allegations from four women who say he touched them inappropriately.

He has already lost the party's establishment. Gov. Eric Holcomb and House Speaker Brian Bosma called on Hill to resign as Indiana's attorney general in 2018 after stories emerged that Hill behaved unprofessionally during a party at the end of the legislative session.
That's all for today. Thanks for reading. Did a friend or colleague forward this to you? Click below to subscribe.