Discover more from IMPORTANTVILLE
Get smarter about the intersection of Indiana politics and power.
Over 3,000 subscribers
Pence on the Sunday Shows—Young and Braun on shutdown—Elkhart police scandal
What's happening—and what's next—at the intersection of politics and business in the Trump era?

By Adam Wren and design by Kris Davidson
Days until the 2019 election: 289
Days until the 2020 election: 653
Days left of the federal government shutdown: ?
PENCE ON THE SUNDAY SHOWS: Vice President Mike Pence sat for interviews on Face the Nation and Fox News Sunday yesterday, addressing what the administration has called a "crisis" at the nation's southern border and pushing the president's shutdown deal: A temporary extension of DACA
The proposed deal—supported by Sens. Todd Young and Mike Braun—seems to be a non-starter with Hill Democrats while alienating Trump's base. Chris Wallace forced Pence to defend the proposal from critics who say its amnesty.
On CBS Face the Nation, Margaret Brennan asked Pence whether he regretted the family separations experienced by more than 2,700 children. His answer:
Well, I-- I think-- I think we-- we regret not only that circumstance but what's driving that circumstance. It's one of the reasons why the President had Secretary Nielsen negotiate with Mexico that going forward we'll be able to allow families to remain in Mexico while they apply for asylum and it would obviate the need to bring them into our system that is ill-equipped to handle the extraordinary influx of families and unaccompanied minors that's coming across our border today. A majority of the sixty thousand people that are-- that are detained attempting to come into our country illegally every single month more than two thousand a day are now families and unaccompanied children. We now have an arrangement with Mexico where those families can remain in Mexico. The President in his proposal also recommended that we allow children to apply for asylum...in the Central American countries. Look, the human traffickers and the cartels take American cash to-- to entice families to send either their family or their children on the long and dangerous journey north. We want that to end. These reforms will advance that from ending. But, look, it's time for Congress to come to the table and take this important step.
Pence also addressed the federal government shutdown:
CBS Face the Nation (full transcript here):
BRENNAN: You arrived here today with Secret Service agents who are with you twenty-four hours a day.

MIKE PENCE: Right.

BRENNAN: Are they getting paid during this shutdown?

PENCE: They're not at this point and eight hundred thousand federal workers are also going without pay and if we don't have a resolution then those paychecks won't go out at the end of this week. But we also have a crisis at our southern border, Margaret. Humanitarian and a security crisis. And as the President laid out yesterday, we're absolutely determined to secure the border to end the shutdown. And what the President articulated yesterday was a-- a good faith, common sense compromise where the President laid out his priorities: building a physical barrier on the southern border, a steel barrier, new resources for Border Patrol, humanitarian assistance technology. But the President also announced that-- that he'd be willing to support legislation that provides temporary relief, three years of-- of temporary legal status for those in the DACA program and also those who have temporary protective status. It really is an effort to-- to compromise and-- and we really look forward to the Senate taking this bill up Tuesday--

BRENNAN: Mm-Hm.

PENCE: --and beginning to work in earnest not just to end this government shutdown, which is a burden on the families of eight hundred thousand federal workers but even more importantly in that to address the crisis that we face in our southern border.
Fox News Sunday (full transcript here):
PENCE: The American people want action on our southern border. They want border security, 800,000 federal workers want us to find a way to open the government. We --

WALLACE: You could open the government tomorrow. You could open the government tomorrow.

PENCE: We can do all of that -- we can do all of that --

WALLACE: You could open the government tomorrow. The House has passed bills to open the government tomorrow, why don't you sign them and open the government and then you can negotiate about this?

PENCE: Well, because -- I mean, you know, frankly, Chris, what the American people want us to do is to work on the priorities and the American people want us to secure the border --
Sens. Young and Braun react to Trump's Saturday address on border security
SEN. TODD YOUNG: "Today the President put forward a commonsense proposal to secure our border and fully reopen the government. As a Marine, I was stationed on the southern border in Yuma, Arizona, and I saw firsthand the need for greater border security. It's time for Democrats to come to the table to address this humanitarian and security crisis. The sooner we can agree to secure our border, the sooner the entire government can reopen, and the principled compromise put forward by the President today is a reasonable solution."
SEN. MIKE BRAUN: "I support the commonsense and bipartisan deal to end the partial government shutdown proposed by President @realDonaldTrump...The President's proposal would address the humanitarian crisis on the southern border by increasing border security, constructing additional physical barriers while extending protections for Dreamers and visas for Temporary Protection Status holders....It's time for Democrats to work with President Trump and finalize this deal so we can reopen the government and pay our federal employees."
Good Monday morning, and welcome to Importantville. Happy Martin Luther King Jr. Day. It's day 31 of the shutdown. Congrats to Jim Banks' new comms director and noted Patriots fan and Importantville subscriber T.W. Arrighi on his Patriots winning last night. I, for one, am tired of the winning.
WHERE'S VEEP? He has no scheduled events today—on MLK Jr. Day.
On eve of MLK Day, Pence says Trump is like Martin Luther King Jr. for 'inspiring us' with a border wall
In a Sunday interview with CBS News, Vice President Mike Pence likened President Donald Trump to Dr. Martin Luther King Jr.

Pence complained during the Sunday interview with Margaret Brennan that House Speaker Nancy Pelosi (D-CA) has said that Democrats will not fund Trump's border wall even if the president agrees to reopen the government.

"So what the president has directed us to do is to reach out with rank-and-file Democrats in the House and in the Senate," Pence explained. "What the president presented yesterday really is an effort to bring together ideas from both political parties. I think it is an act of statesmanship on the president's part."

According to Pence, Trump's actions during the government shutdown could be compared with King, who America will celebrate during a day of remembrance on Monday.

"And honestly," he opined, "the hearts and minds of the American people are thinking a lot today about [this] being the weekend we remember the life and work of the Rev. Dr. Martin Luther King Jr."

"One of my favorite quotes from Dr. King was, 'Now is the time to make real the promises of Democracy,'" Pence continued. "You think of how he changed America, he inspired us to change through the legislative process, to become a more perfect union. That's exactly what President Trump is calling on the Congress to do, come to the table in a spirit of good faith."
HAPPENING TOMORROW: The Indiana House and Senate are in session at 1:30 p.m. The House Ways and Means committee meets at 9 a.m. (agenda here.) The Senate Tax and Fiscal Committee meets at 10 a.m. (agenda here).
ABOUT LEGALIZING MARIJUANA—Associated Press: Indiana cigarette tax hike, legal marijuana bids stalling
Renewed attempts in Indiana to increase the taxes paid by cigarette smokers and legalize at least some marijuana use face cloudy futures with state lawmakers. Anti-smoking groups and business leaders are pushing to triple the state's cigarette tax to nearly $3 a pack, arguing the hike would reduce Indiana's high smoking rate and discourage youths from starting to smoke. Proposals for similar increases have failed in recent years and Republican legislative leaders say they don't sense much appetite for it during this year's legislative session. Bills are pending to allow medical or recreational marijuana use in Indiana. But it doesn't seem the GOP-dominated Legislature will challenge Republican Gov. Eric Holcomb's opposition even as neighboring Michigan, Illinois and Ohio have taken legalization steps.
THE IMPORTANTVILLE TALKING POINT: Ben Smith, the editor-in-chief of Buzzfeed under fire for the veracity of a piece that claims President Trump suborned perjury, began his career at The Indianapolis Star.
FOR YOUR NEXT CLIENT DINNER: The 16 best Indianapolis steakhouses, according to Indianapolis Monthly: "Let's cut to the bone: With nine steakhouses inside the Mile Square alone, red meat is at the top of the food chain in Indianapolis, enjoying a tender spot in Indy's heart that no fried tenderloin can touch. From landmarks to new kids on the (butcher) block, here's our sizzling-hot take on 16 mouthwatering favorites."
COME ON, YOU BOYS IN BLUE: "Ideas abound on where to put Indy Eleven soccer stadium," by Mickey Shuey in IBJ:
"There are two different [potential] strategies" for projects like this, said Tedd Grain, executive director of the Local Initiatives Support Corp. in Indianapolis, which works to resuscitate urban neighborhoods.

"One, you can put it in a place where you can then build around it and that be part of the strategy. Or you can put it in a place that already has density, and it can really thrive as a result of that."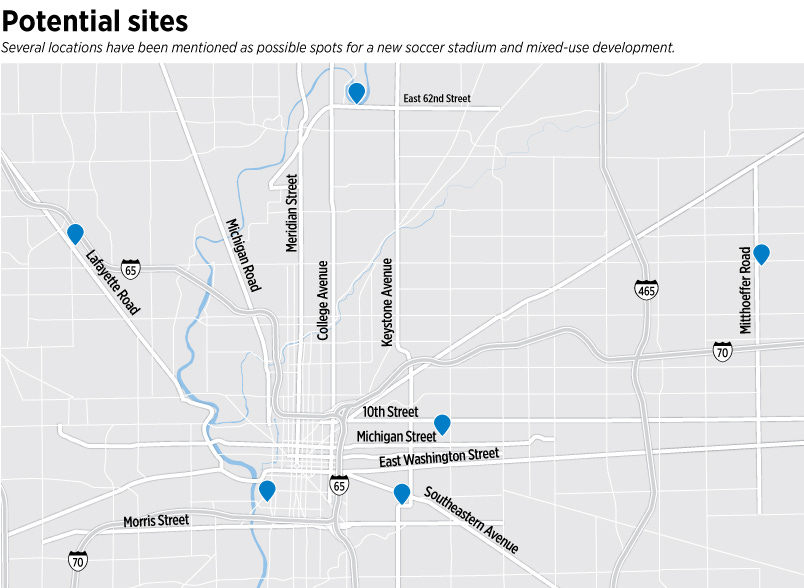 IMS STATEMENT ON PASSING OF BETTY RUTHERFORD, wife of three-time Indianapolis 500 winner Johnny Rutherford, from President Doug Boles:
We're all very saddened about the passing of Betty Rutherford. From the minute she and Johnny met at the Indianapolis Motor Speedway in 1963 when he was an Indy 500 rookie and she was a student nurse in the infield medical center, Betty has been a beloved member of the racing community. Her mutual devotion for Johnny, his legendary racing career and their beautiful family was evident from the beginning and throughout their 55-year marriage, but she also worked tirelessly for decades as a driving force behind many charitable organizations and efforts in the IndyCar community, especially CARA Charities. Betty's engaging smile and personality will be remembered by everyone, as she was a wonderful person who radiated class and warmth to all. We extend our deepest sympathies and heartfelt condolences to Johnny, their family and friends.
Importantville Reads
Sara Burnett, Associated Press: "Could Dems' 2020 nominee be someone you've never heard of?"
At 36, Pete Buttigieg is just over the minimum age required to be president of the United States. Outside South Bend, Indiana, the Rust Belt community where he's been mayor since age 29, few people know his name. Those who know it struggle to pronounce it. (It's BOO'-tah-juhj.)

None of that has deterred Buttigieg — a Democrat, Rhodes scholar and Navy veteran known to most people as "Mayor Pete" — from contemplating a 2020 presidential bid against a crowd of much better-known lawmakers with more experience and more money.

He's among a number of potential candidates who believe the 2016 and 2018 elections showed that voters are looking for fresh faces and that the old rules of politics, in which lawmakers toil for years in statehouses or in Congress before aspiring to higher office, may no longer apply. They're benefiting from Democrats' fears about running another member of the party's old guard against President Donald Trump in 2020.

The group includes Julian Castro, the 44-year-old former San Antonio mayor, and Tulsi Gabbard, the 37-year-old congresswoman from Hawaii, who've already said they're running. Yet to decide is perhaps the biggest breakout star of the midterm elections, former three-term Rep. Beto O'Rourke, 46, who ran a tougher-than-expected race against Texas Sen. Ted Cruz. Rep. Eric Swalwell of California, a 38-year-old Iowa native, has also been spending time in the state with the nation's first caucuses.

They would provide several potential "firsts" in what's already shaping up to be an unusually diverse field. Castro could become the first Latino to win his party's nomination, while Buttigieg — who married his husband last year — would be the first openly gay nominee from a major political party.

"I think most people are thinking: 'Why not?' They think all the rules have been broken, that anybody can run," said Buttigieg, who has said he'll announce his decision on whether to run for president soon. "I think some of the rules have been broken, but there's only one way to find out which ones."
Jack Colwell, South Bend Tribune: "Book by South Bend Mayor Pete Buttigieg tells a tale of three cities"
In his book, South Bend Mayor Pete Buttigieg dwells neither on hard-core politics nor on his now-certain quest for the Democratic presidential nomination. He tells a tale of three cities:

• South Bend in Studebaker-fueled prosperity before his birth, with accounts by long-time residents of a bustling downtown and manufacturing renown.

• A depressed city in doldrums from the automaker's demise, losing population, though still a great place for him as he grew up there.

• A different city now, after he came back home, was elected mayor at age 29 and found enthusiastic support for knocking the rust off the image of his Rust Belt town.

"Shortest Way Home: One Mayor's Challenge and a Model for America's Future" will be available Feb. 10 at a Century Center book-signing. It goes on sale at stores nationwide two days later. Buttigieg then goes on a book tour to major cities.

He is expected before then to announce forming an exploratory committee for seeking the Democratic presidential nomination. A political staff, working separately from the mayor's office, is planning details.
Christian Sheckler, South Bend Tribune, and Ken Armstrong, ProPublica: "Long-sought documents on officer's misconduct surface in Elkhart wrongful conviction case"
Newly released documents show the lead detective in an Elkhart police investigation that led to a pair of wrongful convictions was forced to resign because of sexual misconduct with an informant, details of which the city had failed to disclose for more than 10 years.

The former detective, Steve Rezutko, was the main investigator in the convictions of Keith Cooper and Christopher Parish, a case that was chronicled by the South Bend Tribune and ProPublica last year and was replete with errors by police, the prosecution and judges.

The two wrongfully convicted men had been seeking the documents on Rezutko's resignation as they pursued lawsuits against the city and individual officers. But they were repeatedly told the documents couldn't be found.

The difficulties they faced getting records are similar to those faced by The Tribune and ProPublica. Local government agencies, including the Elkhart Police Department, denied or delayed access to some public records and, in other instances, released files that were incomplete.

Elliot Slosar, Cooper's attorney, called the city's failure to disclose the latest records before now "shocking," and has asked a judge to issue sanctions against Elkhart in a pending lawsuit.

Slosar said the records on Rezutko — which include one informant's allegation that Rezutko paid her for oral sex — are critical to Cooper's claim that he was framed, because the information "undermines Rezutko's credibility and demonstrates his willingness to induce witnesses and informants to cooperate on cases."

In the 20-plus years since Cooper and Parish were found guilty in a 1996 robbery in which a man was shot and seriously wounded, the prosecution's evidence has unraveled while being scrutinized in one criminal or civil proceeding after another. Parish had his conviction overturned and received a $4.9 million settlement. Cooper received Indiana's first pardon based on innocence and filed a lawsuit of his own.

But one mystery has lingered: Why, exactly, was the case's lead detective forced to resign in 2001, and where were the records that documented the reason he was pushed out?
Ericka Andersen, The Washington Examiner: "What Mike Pence and Kyrsten Sinema have in common"
Kyrsten Sinema was looking for attention last week when she was sworn in as the first female Senator elected in the state of Arizona — and she got it. Bold, blonde, and beautiful, she wore a gray fur stole atop her bare shoulders for the main event. Why not go super extra for one of the most exciting days of your life? I'm here for it.

Unfortunately, her fun fashion choice and notoriety for becoming the first openly bisexual person elected to the Senate were not the only things the press flocked to.

Media outlets nationwide breathlessly awaited her interaction with Vice President Mike Pence, attempting to will some awkwardness into existence.

A number of headlines proclaimed the hilarity of "infamous homophobe" Pence having to swear in an atheist, bisexual woman on a a law book containing both the U.S. and Arizona constitutions instead of a Bible. A spokesperson for Sinema said she chose it because of her love for the Constitution.

Considering she's not religiously affiliated, that's a respectable choice, and there's no reason or indication Pence would have a problem with it. After all, the Constitution declares no religious tests, and Pence is nothing if not strictly committed to the Constitution.

However, a tweet featuring a video of the swearing-in says Pence "seems uncomfortable" and now has over 147,000 likes. After watching it several times, the words that come to mind for me are more like "charming," "heartwarming," and "civil."

Both of them seem to be in good spirits and appear happy to participate together in the historic ritual. Sinema made a joke, saying "I'm new at this," and Pence graciously instructed her where to stand.

It's clear that the very conservative Pence and ultra-liberal Sinema likely won't align on many policies. But on this day, they had the opportunity to put those differences aside and share a unique moment in history together.
That's all for today. Have a good week.
Did a colleague or friend forward you this email? You can subscribe here.