Discover more from IMPORTANTVILLE
Get smarter about the intersection of Indiana politics and power.
Over 3,000 subscribers
Pence to vote early in Indiana—Young on SCOTUS—Buttigieg on Pence
Plus: A bizarre crowd-sourced gubernatorial poll.
As President Trump recovers from the novel coronavirus at Walter Reed National Military Medical Center, Vice President Mike Pence will return to Indiana to vote early following this week's vice presidential debate in Salt Lake City Wednesday. The campaign hasn't released the specific timing of his visit. According to the campaign, Pence "will begin a swing through key states following Wednesday's debate in Salt Lake City, Utah. He will travel to Arizona, before voting early in Indiana and heading to other events yet to be announced."
"Operation MAGA will fire up the entire MAGA universe to keep President Trump's campaign at full speed until our Commander-in-Chief returns to the campaign trail," said Bill Stepien, Trump's 2020 campaign manager, who was also diagnosed with COVID on Friday. "Vice President Mike Pence, the First Family, our coalitions, and our grassroots supporters will be out in full force to show the real enthusiasm behind the President's re-election and to show we're working as hard as he always does." 
COMING ATTRACTIONS: VEEPSTAKES DEBATE—NEW FOR INDIANAPOLIS MONTHLY: Pete Buttigieg, who is reportedly standing in for Pence in Democratic vice presidential nominee Kamala Harris's debate, talked with me about his new book and Pence's strengths as a debater.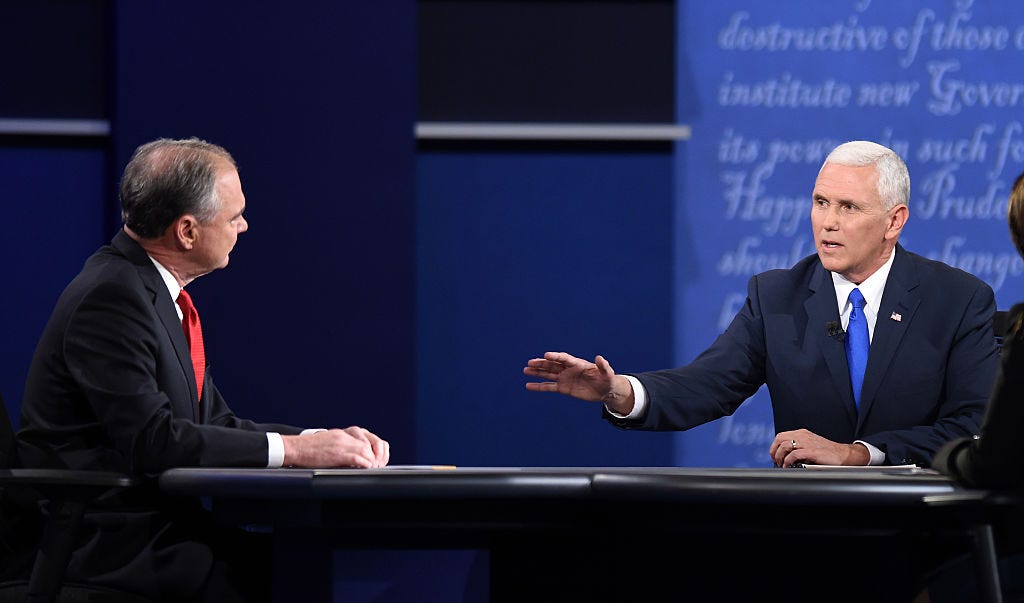 Republican vice presidential nominee Mike Pence (R) speaks during the 2016 U.S. Vice Presidential Debate with Democratic vice presidential nominee Tim Kaine at Longwood University in Farmville, Virginia, the United States, Oct.4, 2016. (Xinhua/Bao Dandan via Getty Images)
ON OCCUPYING THE MIND OF ONE OF HIS POLITICAL FOES: "So I can't confirm or comment on anything in terms of campaign processes, but what I will say is, as a Democrat who has observed Mike Pence obviously, and engaged with him, during my time as mayor, I think it's really important for us to have a sense of this person who's currently the vice president and who's obviously a central figure in the Trump administration and aims to be a central figure in the future of the Republican party. And I have fundamental differences of worldview from him and also think there may be some fundamental contradictions between his worldview and this White House that he's decided to become part of. And, whenever called on, I do my best to try to translate or explain that to the Democrats who are trying to respond to him."

ON WHETHER PENCE IS UNDERESTIMATED: "Yes. He was very effective in 2016. And also in his debates, if you look in 2012, when he was running for governor, it would be a real mistake to underestimate. Largely because he doesn't seem to have any qualms about defending what many of us would consider indefensible, even if it flies in the face of his own professed values."
Good Sunday morning, and welcome back to IMPORTANTVILLE. "Indiana keeps making its way to the center of the political universe," Buttigieg told me in a phone interview Friday. Indeed. Here is a list of figures with ties to South Bend in the news at the moment: Dr. Sean Conley, the president's doctor and a Notre Dame alum; Judge Amy Coney Barrett, Trump's Supreme Court nominee; and Father John Jenkins, the president of Notre Dame who has come down with COVID following his attendance at the Rose Garden nomination ceremony.
YOUNG ON SCOTUS
Sen. Todd Young remains bullish on the nomination of Barrett, which may be one of his biggest victories on behalf of conservatives while in office.
In a media conference call with reporters Friday morning, Young spoke about his efforts to lobby the White House on Barrett's behalf.
"I had multiple conversations with White House counsel and others within the White House who offer counsel to the President," Young told me. "I had multiple conversations with the President, as well, about Amy Coney Barrett's various qualifications. Our office did indeed interact with Judge Barrett and her family, as well to see if there was anything we might do since this is such a high profile, and potentially life-transforming decision, even to be mentioned, for this post, and knowing that she had seven children and that this is a heavy burden for one family to bear."

"I spent countless hours communicating with members of the United States Senate about the importance of choosing a faithful constitutionalist and making the case that Amy Coney Barrett fit the mold of an originalist. And I believe I persuaded some, I encouraged others in the Senate who shared my perspective and convictions about Barrett's qualifications to contact the president and make known their feelings. And I also communicated with some prominent members of national organizations and associations, who are attentive to judicial selections and care very deeply about who the next Associate Justice of the Supreme Court of the United States will be. So I think that's at least an abbreviated summary of the activities I was involved in. And I will continue to look for opportunities to not just support judge Barrett throughout this process, but try and support her family."
I also asked Young about Barrett's support of an effort to criminalize IVF.
His response:
"To the extent she made comments about that, in vitro fertilization or her deep convictions as it relates to the importance of life beginning at conception, which is [a belief] shared by tens of millions of Catholics across the United States, and she thinks that policy should be guided accordingly. Her convictions will be manifested through her own vote at the ballot box. She's assured us and her record of jurisprudence demonstrates that she thinks the role of a judge is not to insert those convictions through her decisions into the law, or the law does not call for that."

"If ever she cannot morally reconcile those two positions, she must do what I was told to do in the military. Whenever one has to conscientiously object to an order from a superior and that is to resign from one's office. In this case, it may not rise to the level of resigning, but instead require not participating in a particular case pursuant to judicial ethics canons."
FAR FROM HOME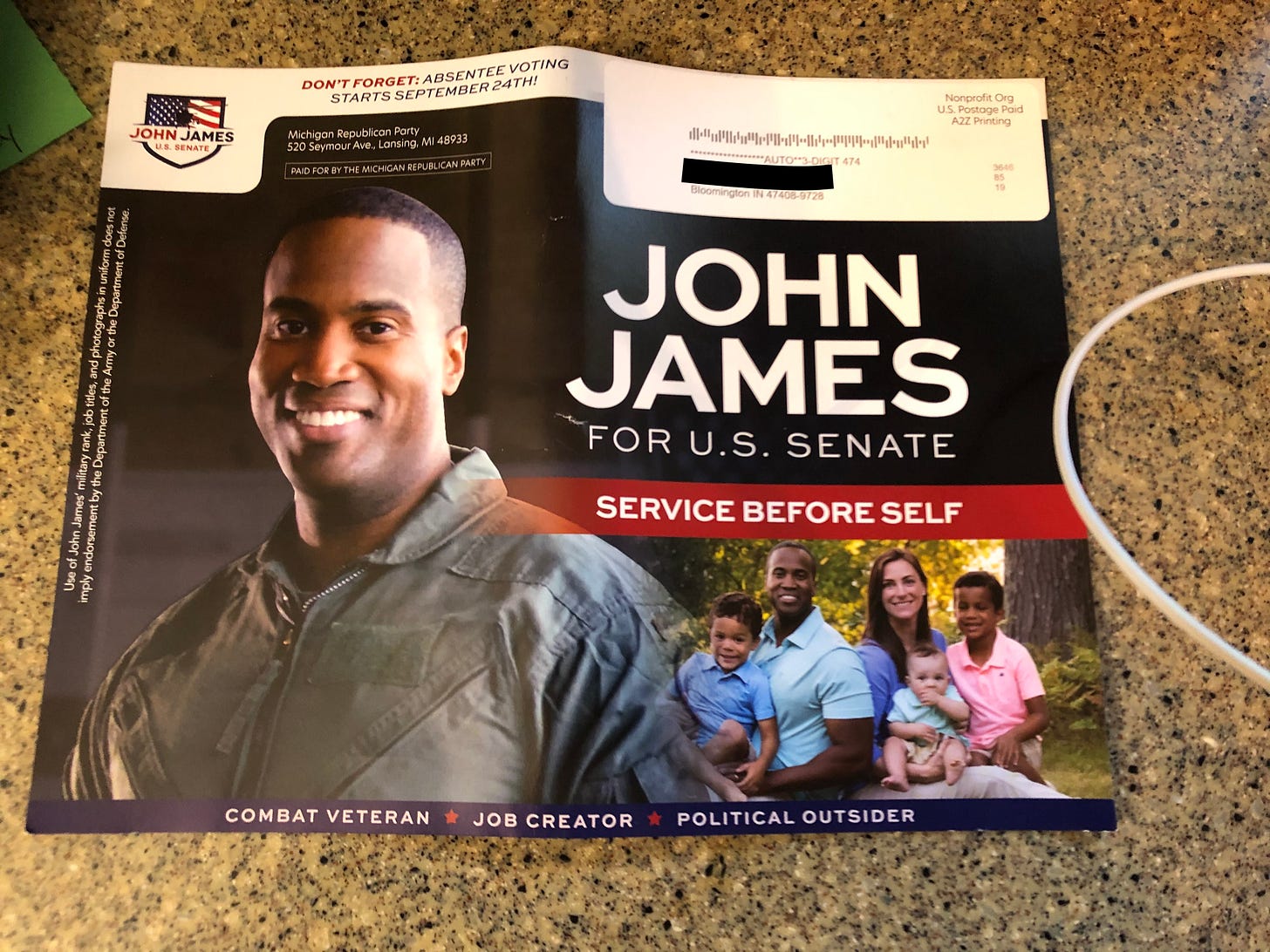 Army veteran and businessman John James, who is challenging Michigan Democratic Sen. Gary Peters, is sending mailers to Hoosier Democratic voters. A Bloomington Democrat who has never lived in Michigan received not one, but two mailers at the same address.
This raises serious questions about the James campaign's ability to target voters, and also the campaign's use of funds. The race is a tight one, according to RealClearPolitics' average of polls: Peters leads by +3.8.
The campaign did not respond to a request for comment Friday.
AROUND IMPORTANTVILLE
Democratic candidate Woody Myers' finance director has been involved in an attempt to crowd-source a statewide poll, evidence that his campaign doesn't have the funds to conduct their own polling, raising questions about whether it creates a campaign finance violation. Essentially, the crowdsourced poll would allow for anonymous donors.
Finance director Morgan Whitacre later deleted the tweet.
I asked the campaign for a comment. "While this crowdfunding is not at the direction of the campaign, it does reflect the fact that voters are eager to help affect change and be part of something tangible – something that helps a candidate they believe in," said communications director Brandon Evans. "We commend Andrew Ellison and every Hoosier looking to take an active part in their democracy."
Sources say the poll will be released this week.

IMPORTANTVILLE READS
Indiana's 5th looks to be one of the most competitive congressional races in the country. But if the Republican-drawn stronghold flips from red to blue this fall, it won't be because of Donald Trump. Or Joe Biden.

Like a polo field in the middle of Indiana, there's more happening in Indiana's 5th than meets the eye. Appearances can be deceiving. For years, Republicans could all but expect wins in districts like the 5th because of their inherent small-c suburban conservatism. But what happens when the Republican base is drawn to far-right candidates like Spartz, while at the same time, suburban moderates are softening their views on everything from racial issues to gun violence? Spartz and Hale are about to find out.
As the group's members grew their families, many gaining prominence in the community, spread out through the suburban neighborhoods and business community of South Bend.

"They're involved in all sorts of professional life, whether it's real estate or law or whatever," said Ryan Dvorak, a South Bend-based Democratic Indiana state representative who ran for mayor in 2011, when I asked him about the group's local presence.
You might be wondering why Myers is struggling so much — that is, if you even know who Myers is. There's a good chance you don't. That's another problem.
That's all for today. Thanks for subscribing and reading.
—Adam Wren