Discover more from IMPORTANTVILLE
Get smarter about the intersection of Indiana politics and power.
Over 3,000 subscribers
Race Day edition: Pagenaud is the King of May—Buttigieg assails Trump on war crimes—Hoosier politicos spotted at the Indy 500
The "'Merica" edition: In which the race turned out to be as unpredictable as the weather.

By Adam Wren and design by Kris Davidson
Simon Pagenaud became the first person to complete a perfect month of May by winning the Grand Prix, the pole position of the Indy 500 and the Indy 500 Sunday, the 103rd running of the race.
After all the fretting, the weather turned out great. How did it not rain? What sorcery is this?!
Indiana Gov. Eric Holcomb was all of us Sunday, climbing the pit wall before the start just to get A LITTLE BIT CLOSER to it all. The race, in so many ways, is a great equalizer. We're all here for the spectacle.
THE LEDE-ALL FROM THE INDIANAPOLIS STAR'S JIM AYELLO: "Insider: Simon Pagenaud out-battles Alexander Rossi in dramatic Indy 500 finish"
No one will ever forget the name Simon Pagenaud again. He is now an Indianapolis 500 champion who, after Sunday's heroics at Indianapolis Motor Speedway, will soon be immortalized on the legendary Borg-Warner Trophy.

And boy did he earn it. After winning the IndyCar Grand Prix earlier this month, Pagenaud took the pole for the 500 and led 116 laps en route to the first pole-sitter victory since 2009.

Alexander Rossi nearly overcame the Frenchman late as the two exchanged the lead multiple times in the final laps, but as Rossi would later say, he just didn't have enough horsepower to make the pass.

Pagenaud's win gives Roger Penske his 18th victory at the 500. Penske swept the month of May last season with Will Power, too.
NBC'S DISPATCH: "Simon Pagenaud wins Indy 500 thriller, completes a sweep of May"
Pole-sitter Simon Pagenaud outdueled Alexander Rossi to win the 103rd Indianapolis 500 in a breathtaking finish Sunday.

Pagenaud and Rossi traded the lead at least a half-dozen times after a restart with 14 laps remaining at Indianapolis Motor Speedway. Pagenaud took the lead for good with a lap left and then darted all across the 2.5-mile oval on the final circuit to hold off a charge by Rossi.

"When you have a car like this, a team like this, it's about executing at the end," the Frenchman told NBC Sports' Marty Snider in the Winner's Circle. "We did it, baby!"
SPOTTED AT THE INDY 500: Matt Damon and Christian Bale taking selfies on the red carpet; A jorts-clad Andrew Luck with his wife Nicole; author John Green; Gov. Eric Holcomb climbing from the pit road to get to the track ahead of the start; Former Gov. Mitch Daniels; Indianapolis Mayor Joe Hogsett with his wife Steph; Hogsett's Chief of Staff Thomas Cook; Deputy Chief of Staff and former 500 Princess Taylor Schaffer; State Sen. Jim Merritt noshing on french toast casserole in a Pagoda suite; Former Joe Biden and Al Gore Chief of Staff Ron Klain; Editor-in-Chief of FiveThirtyEight Nate Silver; Fox 59 Anchor and INFocus Host Dan Spehler; State Sen. Travis Holdman; State Rep. Jerry Torr.
For race day, I'm opening this post up to all subscribers. If you like what you're reading, you can get my latest scoops and analysis by clicking below.
WHERE'S VEEP? He has no scheduled events today.
THE RACE IN TWEETS
Read the replies to this one:
THE BUTTIGIEG BEAT
South Bend Mayor Pete Buttigieg sat down Sunday morning with Martha Raddatz on ABC This Week.
ON THE PRESIDENT'S COMMENTS ON WAR CRIMES:
Martha Raddatz: I want to go to some of the comments the president made about service members who have either been accused of war crimes, or convicted of war crimes. He said, we teach them to fight, and they get treated unfairly, and he is going to look at those cases to see if perhaps they can be pardoned.

Pete Buttigieg: The idea that being sent to war turns you into a murderer is exactly the kind of thing that those of us who have served have been trying to beat back for more than a generation. For a president, especially a president who never served, to say he's going to come in and overrule that system of military justice undermines the very foundations, legal and moral, of this country. Frankly, his idea, that being sent to fight makes you automatically into some kind of war criminal is a slander against veterans that could only come from somebody who never served.
MORE here.
WHAT'S NEXT: Buttigieg will return home this week and host a mayor's night out event—town-hall style, due to high expected turnout— at 5:30 p.m. at the South Bend Civic Theatre. Since Feb. 1, he's been away from the city 45 percent of the calendar days.
MAJOR MOVES
MATT HUMM, the state operations manager for Sen. Todd Young, married Kayley Dotson, an epidemiologist at the Indiana State Dept. of Health. The happy couple married in Noblesville on the eve of the 103rd Indy 500.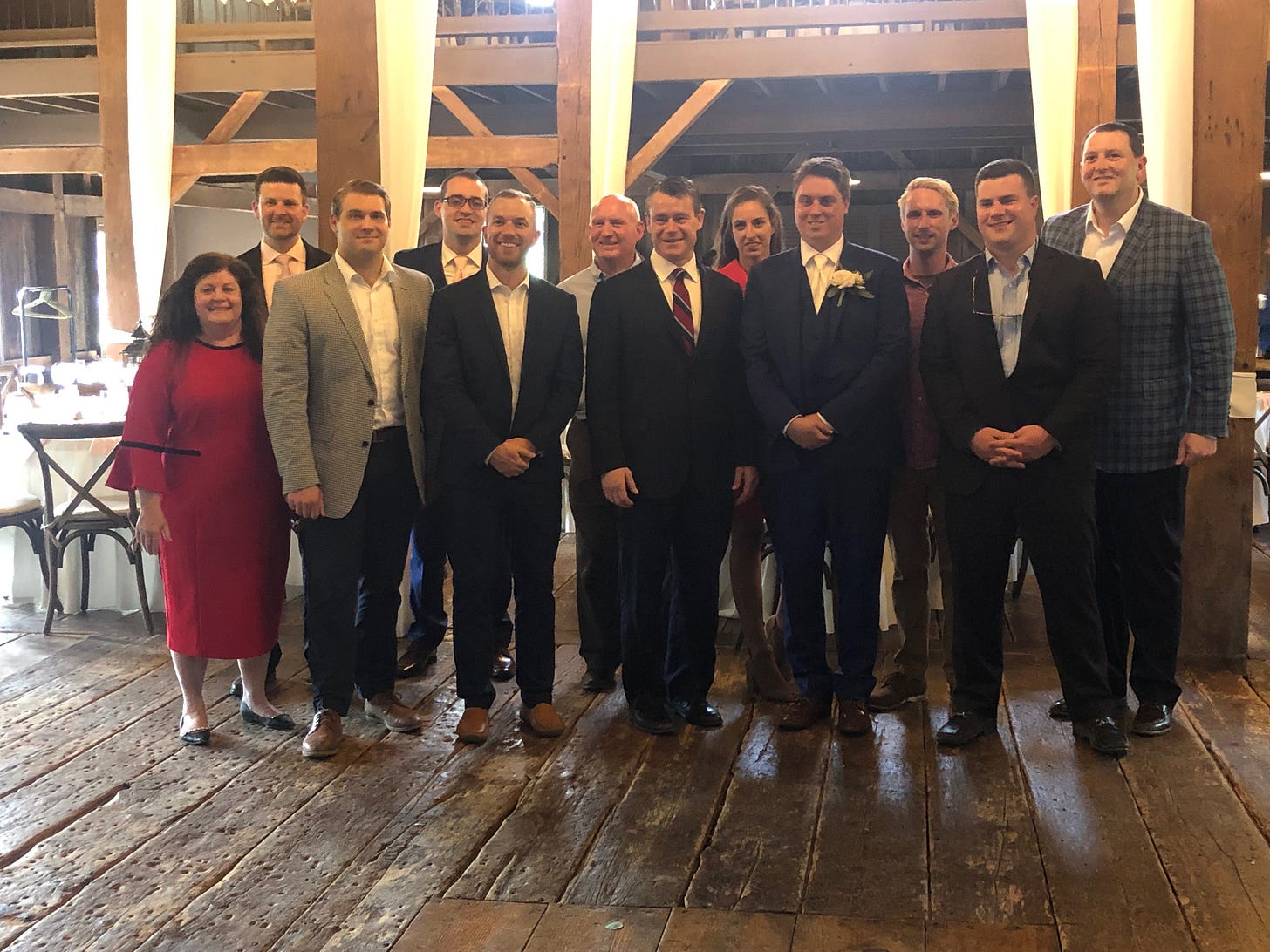 SPOTTED: Young, Evansville Mayor Lloyd Winnecke, Team Young staff and alumni; Andrew Kossack; Emily Daniels; Deb Johannes; Kenton Williams; Thomas Barclay; Kevin Ober; John Holtkamp; Chris Creighton; Aaron Minnick; Megan and Cam Savage.
IMPORTANTVILLE READS
Hold your nose. The 500 victor's celebratory sip of milk is one of Indy's most hallowed traditions. It's also—not surprisingly on a hot day in late May—one of the smelliest. Inevitably, the driver or a teammate will dump the bottle over the winner's head, and in the ensuing media onslaught, there's no break for a shower. "You sit in front of the cameras in a suit that smells like rotten milk and sweat," says Alexander Rossi, who raced in 2016 as a rookie and won. "I'll be honest—it's pretty gross. But it's such a cool tradition. It's a nice problem to have."

Say goodbye to your crew. You've just won the biggest race of the year; you want to celebrate with the team, the people that helped make it happen. Yeah, not so much. By the time you're done with sponsors and media, it's already 8 p.m. "It was dark. The team had already packed up," says Rossi. "I didn't get to see the mechanics or any of the crew. They were done with their celebratory dinner and such. And I couldn't stay out late because I had a five-hour, 6 a.m. photo shoot at the Yard of Bricks. You don't really get to catch your breath until noon Monday."
When Barbara Paulding was 44 years old, Joe Biden had been a member of the United States Senate from Delaware for more than a decade -- and Pete Buttigieg was about to be born.

Despite being only 37 years old, the latter -- a gay, veteran mayor from South Bend, Indiana, who is running for president in 2020 -- wowed the now 81-year-old Paulding after he spoke in a low-slung union hall here in Des Moines.

Paulding represents a growing number of senior citizens who have rallied around Buttigieg because of -- not in spite of -- his age. And she said after Buttigieg's speech that her support of the millennial mayor over the 76-year-old former vice president Biden or 77-year-old Vermont Sen. Bernie Sanders does not feel abnormal.

A recent CNN poll found that 22% of people 65 and older have a favorable opinion of Buttigieg, compared to 16% for voters under 34. And a recent Suffolk University poll in New Hampshire found more voters older than 65 said they would back the Indiana Democrat if the primary was today than voters younger than 50.
That's all for today. Thank you for subscribing. Enjoy the rest of your holiday weekend.