Discover more from IMPORTANTVILLE
Get smarter about the intersection of Indiana politics and power.
Over 3,000 subscribers
Scoop: Buttigieg hires Indiana state director
Arielle Brandy, a South Bend native and Hoosier Women Forward alum, will lead the candidate's Indiana 2020 operations.
Days until Indiana's 2020 primary: 215
Days until Indiana's municipal election: 33
FIRST IN IMPORTANTVILLE: Pete Buttigieg's campaign has hired Arielle Brandy as his Indiana state director.
Brandy—the former regional field director in 2016 for the Indiana Democratic Party Coordinated Campaign for John Gregg for Governor, Evan Bayh for U.S Senate and Lynn Coleman for Congress—is the Democratic board member of voter registration for St. Joseph County.
The South Bend native is also the political action chair of the South Bend Branch of the NAACP, and a member of the inaugural class of Hoosier Women Forward, the Democratic leadership training program.
Brandy will work out of the campaign's South Bend headquarters.
Brandy's hiring is a signal Buttigieg plans to still be in the race through next May when the Hoosier state holds its primary.
Good Thursday morning, and welcome to IMPORTANTVILLE. There are still tickets available for my Half Liter BBQ event this Sunday with Ron Klain, the former chief of staff to two vice presidents and a longtime debate prep guru for every Democratic nominee since 2004. He'll take us inside what presidential debate prep is like, talk about 2020, and share his unique path from growing up in Indianapolis to becoming a Washington wise man and Ebola Czar. See you at 5 p.m. before the Colts game. TICKETS here—cost of the ticket includes a drink.
WHERE'S PENCE? He's in Scottsdale for a Southwest Hispanic Leaders roundtable discussion in honor of Hispanic Heritage Month. Later, he heads to Tucson to deliver remarks on the United-States-Mexico-Canada Agreement.
WHERE'S PETE? He'll open up a new campaign office in South Bend, a sign he still plans to be in the race by Indiana's May 2020 primary.
MERRITT'S AD BUY DROPS MORE THAN $60,000 IN ONE WEEK
Just weeks out from Indianapolis mayoral election, Republican State Sen. Jim Merritt is poised to go dark on television by Friday, according to media buying data.
According to data obtained by IMPORTANTVILLE, Merritt spent less than $75,000 last week and less than $9,000 this week—a dramatic 88% drop.
Democratic Mayor Joe Hogsett has spent about $2 million on television since July.
Asked whether the campaign was struggling with fundraising to air ads, Whitley Yates, spokesperson for the Merritt campaign, told IMPORTANTVILLE:
The Merritt for Indy campaign is in a strong financial position and continues to gain strength. We have a plan and strategy and you will see more media buying in the future.
IMPORTANTVILLE READS
President Trump repeatedly involved Vice President Pence in efforts to exert pressure on the leader of Ukraine at a time when the president was using other channels to solicit information that he hoped would be damaging to a Democratic rival, current and former U.S. officials said.

Trump instructed Pence not to attend the inauguration of Ukrainian President Volodymyr Zelensky in May — an event White House officials had pushed to put on the vice president's calendar — when Ukraine's new leader was seeking recognition and support from Washington, the officials said.

Months later, the president used Pence to tell Zelensky that U.S. aid was still being withheld while demanding more aggressive action on corruption, officials said. At that time — following Trump's July 25 phone call with Zelenksy — the Ukrainians probably understood action on corruption to include the investigation of former vice president Joe Biden and his son Hunter Biden.
The Hill: I can't help but see a contrast between you and your fellow Hoosier, Vice President Mike Pence. What do you make of the central role religion has played in his role in public life?

Buttigieg: The strange thing, of course, is that during the Clinton years he seemed very committed to the idea that the personal behavior, including the personal sexual conduct of the president, really mattered for public purposes. And now he's persuaded himself that Donald Trump is fit to be not only the political but the moral leader of the American people. There are any number of explanations for how he went through that conversion. I'm guessing the answer is politics.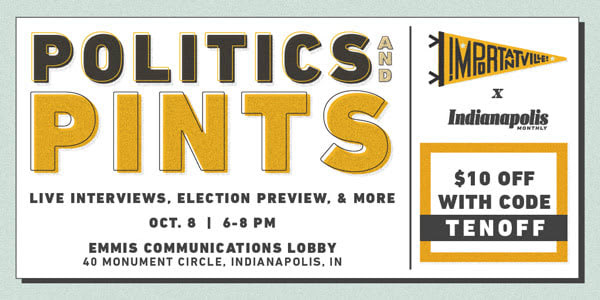 Join me next Tuesday, Oct. 8 for the IMPORTANTVILLE Politics & Pints event featuring live interviews with U.S. Sen. Todd Young and Democratic congressional candidate Christina Hale talking about the 2020 election cycle, news of the day, and Indiana's increasing influence in national politics. We'll be in the Emmis lobby on Monument Circle at 6 p.m.
Get your tickets here. Use the code TENOFF for a $10 discount.
That's all for today. Thanks for reading.