Discover more from IMPORTANTVILLE
Get smarter about the intersection of Indiana politics and power.
Over 3,000 subscribers
VP impeachment blowback—Buttigieg's new IA ad—Debate prep with Ron Klain + Beer & BBQ
Pence declined to answer questions about the whistleblower complaint this morning in Columbus.
By Adam Wren and design by Kris Davidson
Days until the Iowa caucuses: 130
On the same week that a new biography about Vice President Mike Pence dropped, the Hoosier is receiving a new round of scrutiny for his involvement in the Ukraine call that has led to an impeachment inquiry.
Pence woke up in Indianapolis this morning at the JW Marriott—and to a whole new political world, too: He'll need legal counsel. His often-opaque role as an adviser to the president will be laid bare; his presidential prospects questioned.
PENCE'S EXPOSURE, per POLITICO:
Few are more important in Trump's orbit on foreign policy than the vice president. Pence is Trump's right-hand man when dealing with fellow world leaders. He's often piped in for phone calls. And the two strategize about it all at their weekly lunches.

It's with that pedigree that the president dispatched Pence earlier this month to cover for him in Poland on a trip that included a meeting with Ukrainian President Volodymyr Zelensky. Asked by a reporter whether they'd discussed Joe Biden, Pence said the conversation covered U.S. financial support for the Eastern European country and "corruption."

Trump is hardly helping the matter. During a Wednesday news conference in which the threat of impeachment loomed, the president pretty much tossed his No. 2 to the wolves. "I think you should ask for Vice President Pence's conversations, because he had a couple conversations also," Trump said. "I could save you a lot of time. They were all perfect. Nothing was mentioned of any import other than congratulations."
MAUREEN GROPPE, per USA TODAY:
When Pence substituted for Trump at the last minute on a trip to Poland this month, he had a private meeting with Zelensky. During a news conference the next day, Pence was asked whether he discussed Biden with Zelensky.

"The answer is no," Pence said.

He gave a less direct response to the question of whether he could assure Ukraine that a hold up of military assistance was not related to efforts by Trump allies to try to dig up dirt on Biden.
VICE PRESIDENT MIKE PENCE IN INDIANAPOLIS THURSDAY, speaking at 1:28 p.m. at MacAllister Machinery: "It's really why I'm here today. And the truth is, while we're watching our nation's capital -- even today we see many Democrats who spent the last two and a half years on baseless accusations and they keep trying to overturn the will of the American people in the last presidential election -- I'm here to make you a promise: Whatever the Democrats and their allies want to spend their time on, President Donald Trump and I are going to stay focused on the issues that matter most to you -- a strong national defense, secure borders, safe streets, and jobs, jobs, jobs. And that's exactly what we've been doing."
TODAY'S LATEST, from the Indy Star: "Mike Pence ignores whistleblower questions during a visit to Columbus school"
Pence didn't respond to questions Friday about the whistleblower complaint. During a visit Thursday to MacAllister Machinery in Indianapolis, where he was promoting the administration's proposal to replace NAFTA, he did say that Congress' efforts to thwart his and Trump's policy pursuits wouldn't work.
INDIANA DELEGATION RESPONDS TO IMPEACHMENT INQUIRY
Sen. Todd Young hasn't yet commented on the impeachment proceedings yet. We'll talk about that—and more—at the Oct. 8 IMPORTANTVILLE Politics & Pints event featuring live interviews with U.S. Sen. Todd Young and Democratic congressional candidate Christina Hale talking about the 2020 election cycle, news of the day, and Indiana's increasing influence in national politics. 
It'll be in the Emmis lobby on Monument Circle at 6 p.m.
Get your tickets here. Use the code TENOFF for a $10 discount.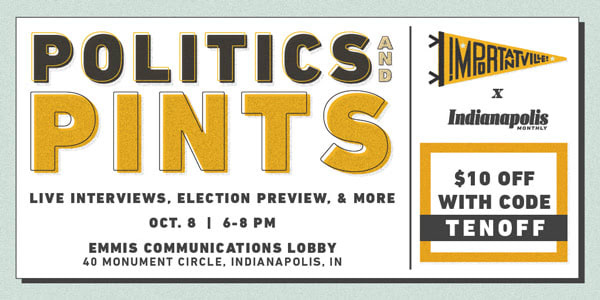 Good Friday afternoon, and welcome to IMPORTANTVILLE. Before October's Democratic debate in Columbus, Ohio, I'll interview Hoosier expat Ron Klain, the former chief of staff to two vice presidents. He's worked on debate prep for every Democratic nominee since 1992 and been in charge (or co-in charge) on every debate since 2004.
TICKETS here.
---
THE BUTTIGIEG BEAT
On the heels of the impeachment inquiry, Pete Buttigieg's chances to climb to the top of the Democratic primary either got more difficult or easier, depending on which pundits you listen to or journalists you read.
"What is clear, from interviews with advisers and allies with the various campaigns, is that the top candidates like Mr. Biden and Ms. Warren believe they are sufficiently established in the race that they can continue to command attention for their candidacies and messages [amid the impeachment news]," writes The New York Times' Reid J. Epstein and Lisa Lerer. "Second-tier and third-tier candidates, however, are at much greater risk of falling off the radar screen for an electorate that may soon be at a standstill, distracted by an impeachment circus in Washington."
There's also a chance that the news hurts former Vice President Joe Biden. In that scenario, Buttigieg could present himself as the Biden alternative. Buttigieg has declined to attack Biden on the issue, telling reporters on his Iowa bus tour he sees no "there" there.
In other news, Buttigieg launched his second statewide ad in Iowa— "Had To" a contrast with Sen. Elizabeth Warren and Sen. Bernie Sanders on Medicare for All.
And he picked up a pair of crucial New Hampshire endorsements. John and Mary Rauh. Mary, per the campaign, served as a New Hampshire co-chair of President Obama's 2008 and 2012 presidential campaigns. Her husband was the Democratic Senate nominee in 1992.
FOR YOUR RADAR
Buttigieg is the keynote speaker for the Greater Indianapolis branch of the NAACP's 50th Freedom Fund Banquet next Friday at 5:30 p.m. at the Indianapolis Marriott Downtown. Indianapolis Mayor Joe Hogsett will be the honorary chairman.

We should learn more about Buttigieg's third-quarter fundraising haul next week. The deadline is Sept. 30. Buttigieg has typically announced his haul on the Monday of the deadline.
IMPORTANTVILLE READS
What he really wants is what almost every vice president wants — to be president. He hoped to run in 2016 and in fact even former President George W. Bush sent a message through intermediaries urging him to "please stop Trump and save the Republican Party." Instead, he joined Trump — selected, LoBianco concludes, because Trump figured the dry and ponderous Pence would not compete for airtime.

Apparently, Pence assumed that Trump would not run again in 2020, clearing the way for him. Now he is committed to waiting another four years until 2024, unless impeachment leads to an earlier exit by the president. Either way, he is linked inextricably to Trump as the nation studies the vice president to understand who he really is. For now, at least, he is not saying, and we are left to make what we can of the small clues.

When an evangelical pastor who once prayed with Pence in his congressional office ran into him at a ceremony last year, he told him: "You know, Mr. Vice President, more than anything, we need you to find your conscience, the country desperately needs you to find your conscience."

"It's always easier said than done," Pence replied cryptically, and then walked away.
Democratic presidential hopeful Pete Buttigieg is using an impressive fundraising haul to quickly grow his campaign in the early voting state of Nevada, erasing a slow start that trailed other candidates.

Buttigieg, the mayor of South Bend, Indiana, had been running a minimal operation in Nevada, which will be the third to vote in the Democratic primary next year. But after he brought in nearly $25 million in contributions last quarter, Buttigieg has been rapidly catching up with his competitors in early states.

The campaigns of Massachusetts Sen. Elizabeth Warren, former Vice President Joe Biden and California Sen. Kamala Harris each had roughly 30 staffers in Nevada by early July and have been growing.

Buttigieg, who hired his first Nevada staffer in June, now has 35 there, according to his campaign, along with offices in east Las Vegas, Henderson and even rural Elko.

He also plans to open seven more offices by mid-October, including in Reno, Carson City, Fallon and Pahrump. That will put him ahead of all the others — including Warren, who has six offices.
THE SUNDAY SHOW
On this week's edition of IN Focus: Interviews with Rep. Larry Bucshon, Secretary of State Connie Lawson, and journalist/author Tom LoBianco. 
Panelists: Robin Winston, Tony Samuel, Elise Shrock, and Mike Murphy. Airs at 7:30 a.m. on CBS4, 9:30 a.m. on FOX59.
Did a friend or colleague forward this to you? Click below to subscribe.