Discover more from IMPORTANTVILLE
Get smarter about the intersection of Indiana politics and power.
Over 3,000 subscribers
Young's letter to Trump—Inside the IN GOP AG race—Buttigieg to Notre Dame
Plus: Pence on coronavirus uptick.
By Adam Wren and design by Kris Davidson
FIRST IN IMPORTANTVILLE: Sen. Todd Young sent a letter today to President Trump, demanding a "strong and immediate response" from the U.S. government in the aftermath of reports that the Russian military intelligence agency offered bounties in exchange for the targeting and killing of American and coalition service members in Afghanistan.
"As part of our constitutional prerogative, I recommend that the relevant Senate committees convene oversight hearings on this matter," Young writes.
The full letter: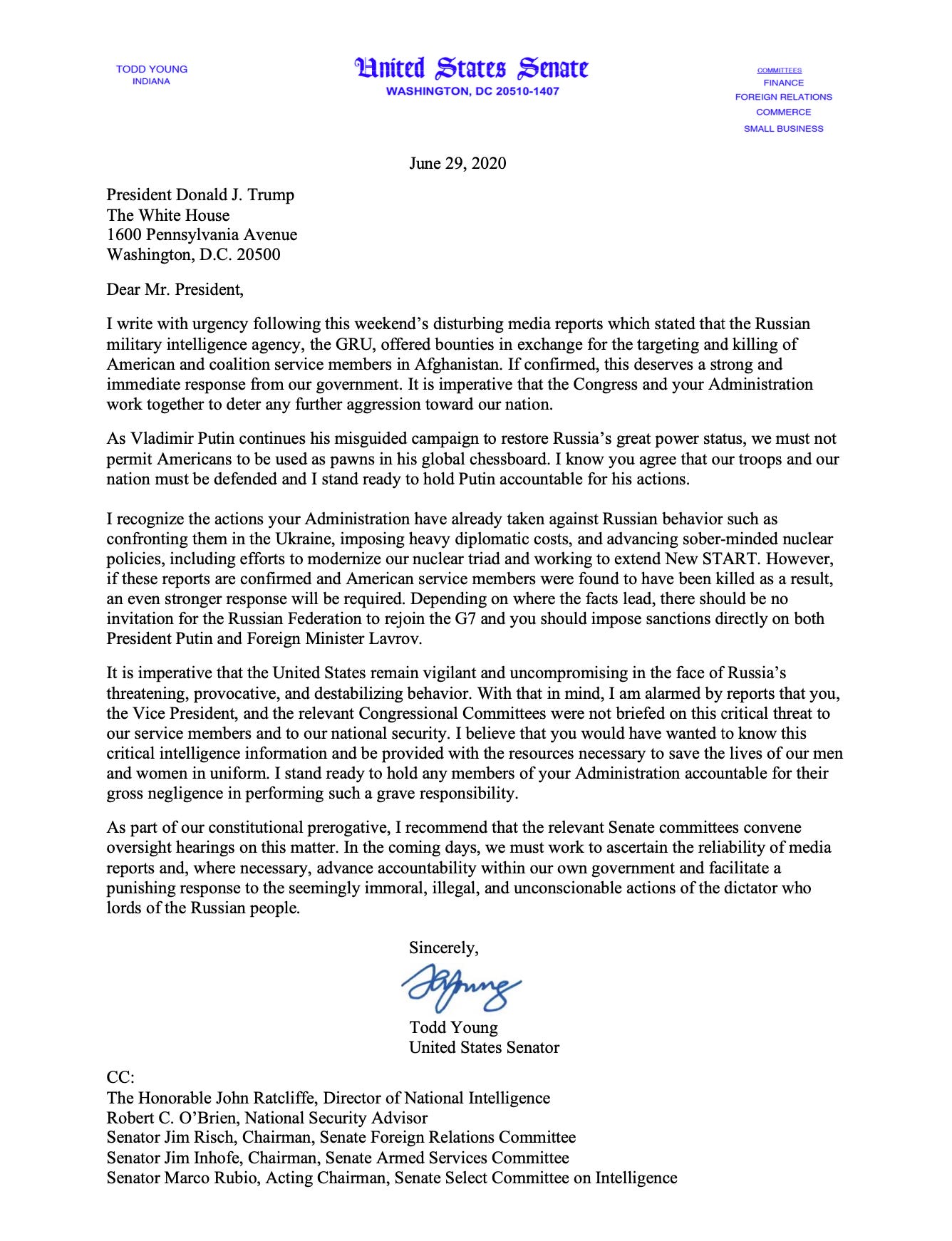 Young has been an occasional critic of the Trump administration on foreign policy, including the administration's response to Yemen's civil war.
Good morning, and welcome to IMPORTANTVILLE after a brief hiatus.
WHERE'S VEEP? He joins the president for lunch and convenes a coronavirus task force meeting at 5:30 p.m.
INSIDE THE REPUBLICAN AG RACE
Former Republican Congressman Todd Rokita is giving out his personal cell phone number to delegates, as they continue to cast ballots by mail through ranked-choice voting for four candidates: embattled incumbent Curtis Hill, whose law license was suspended for 30 days after the Indiana Supreme Court determined that Hill committed the criminal battery when he groped four women at a Sine Die party in 2018; Decatur County Prosecutor Nate Harter; attorney John Westercamp and Rokita. Ballots are due back July 9. The candidate is expected to be unveiled on July 10.
In his latest email, he uses the situation in Seattle as a cri de coeur for his nomination. He writes today:
Our campaign is a movement, a cause, to protect our values. It is about you. It is about bringing certainty to the November election, certainty in uncertain times.

The situation in Seattle is disturbing. We have seen extreme liberals taking over streets, looting, public and private property damage, and just sheer mayhem there and elsewhere. Our Constitution protects our freedom of speech, but does not protect lawlessness. As your next Attorney General I won't stand for it.
Meanwhile, there are signs that Hill could still be the party's nominee, according to delegates. Delegates in several of the doughnut counties seem to be backing Harter, while delegates elsewhere are standing by Hill. Rokita doesn't seem to be gaining traction. Hill won a straw poll of Vanderburgh County Republicans, as reported first by Indiana Legislative Insight, claiming 61% of the vote. Rokita ranked second at 26%. Harter took 13% and Westercamp put up a goose egg.
IMPORTANTVILLE NOTEBOOK
Every once in awhile, I like to crack open my notebook and give readers a sense of storylines I'll be following. Here are a few potential ones I'll be watching over the summer:
Does President Trump pay a visit to the Indy 500, which is on (for now)? It could make sense for Trump to visit what will likely be the largest gathering in the world in the aftermath of the initial COVID-19 wave. And the new owner of the Indianapolis Motor Speedway, Roger Penske, is fresh off of receiving the highest civilian honor—the Presidential Medal of Freedom—from Trump just last October. Here's what Trump said about Penske back then: "Roger is also one of the most successful businessmen in America. He started with a single dealership and today runs an automobile and automotive empire that employs 64,000 people at over 3,600 locations with annual revenues of over $30 billion. That's fantastic. I still think 18 Indianapolis 500s is more incredible, but that's okay. That's okay. But that's really incredible what you've done in business." The race is slated to happen on Sunday, Aug. 23. The GOP convention runs Aug. 24-27.

Will the Sept. 29 presidential debate between Trump and Biden still happen at the University of Notre Dame? They're declining to say as of last week.

As the Senate map looks increasingly bad for Republicans, does National Republican Senatorial Committee Chair Sen. Todd Young receive any blowback? Or does that rest on Senate Majority Leader Mitch McConnell and the president, as Young's role is primarily as chief fundraiser?

In the 5th Congressional District, can Republican State Sen. Victoria Spartz keep up with Christina Hale's fundraising pace? Spartz's latest pitch to donors ahead of the July 15 deadline? "Nancy Pelosi handpicked my opponent, Christina Hale, and Pelosi is working very hard to get her radical friends to finance Hale's campaign," the campaign writes. "Pelosi knows Hale will support her far-left, socialist agenda. Anyone backed by Pelosi and these extremists does not share our values and will not represent Hoosiers."

Will Pete Buttigieg's Win the Era PAC get involved in the 5th, backing Hale?

Is there anything Democratic Gubernatorial nominee Dr. Woody Myers can do to catch Republican Gov. Eric Holcomb, who is shaping up to wage one of the most dominant re-election campaigns of Republican governors anywhere?
MAJOR MOVES
Buttigieg is joining Notre Dame as a faculty fellow for the 2020-2021 academic year. He'll work on two projects, according to the university: "one that explores how to restore trust in political institutions and another that considers the forces distinctively shaping the 2020s." Buttigieg will also teach undergraduate students. He follows in the footsteps of other Hoosier Democrats who have taken posts at the university, including former U.S. Senator Joe Donnelly.

Mike Schmuhl, Buttigieg's former national campaign manager, joined Heartland Ventures as the Midwest venture capital firm's director. Heartland Ventures is a Seed and Series-A fund with an investor base made exclusively of strategic middle-America business owners and CEOs with 500-15,000 employees.
IMPORTANTVILLE READS
Since joining the Senate, Braun has stayed committed to the gimmick. He has sided with President Donald Trump on 94.6% of his votes, according to a FiveThirtyEight tally, and raised eyebrows early this year by literally jockeying for camera position to defend Trump during the impeachment trial.

But just as Braun, a Jasper businessman, went from habitually voting in Democratic primaries to running for the Senate as a pro-Trump Republican, Braun also seems to be laying a foundation for a post-Trump Senate transition.
Vice President Mike Pence, during a trip to Dallas on Sunday, promised Texas would bounce back from a recent surge in cases of the new coronavirus while urging Americans to turn to their faith during a tumultuous period for the nation.

"Working with your governor, we will put the health of the people of the Lone Star State first, and every single day we'll continue to reclaim our freedom and our way of life, as each day we are one day closer to the day we put this pandemic in the past," Pence said during an event at First Baptist Dallas. "And when we do, with this governor and this president, we'll bring Texas and America back bigger and better than ever before."
That's all for today. Thanks for reading and subscribing.